Home2 Suites by Hilton to use InterfaceFLOR products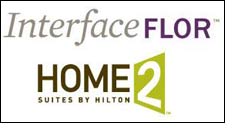 Home2 Suites by Hilton, the new mid-tier extendedstay hotel concept targeting savvy and value-wise extended-stay guests, is utilizing state-of-the-art postconsumer recycled content carpeting by InterfaceFLOR, the largest modular carpet tile manufacturer in the world, to outfit its model prototype at the Memphis, Tenn. headquarters. The "Hip and Humble" brand intends to outfit each new location with a variety of eco-friendly design elements and flooring is one spotlighted area.

"Home2 Suites is a brand that focuses on marrying style and value while remaining conscious of our environmental impact," said Bill Duncan, Global Head, Brand Management."InterfaceFLOR shares our commitment and has an excellent reputation for providing a quality product that is consistent with the overall feel and comfort of our suites." Home2 Suites has taken careful consideration into balancing the environmental impact with an uncompromised guest experience. While not an exclusive partner for Home2 Suites, InterfaceFLOR is a preferred option and was chosen for its specialization in modular carpet flooring, which creates little waste in the installation process.

The InterfaceFLOR carpet tile in the prototype guestroom meets CRI Green Label Plus Certified air quality standards and a Platinum rating for the NSF 140 sustainable carpet assessment standard. While attractive and eye-catching with its multi-tonal striped pattern, it also contains 35-36 percent preconsumer recycled content and 33 percent post-consumer recycled content, equaling approximately 70 percent total recycled content.The post-consumer recycled content comes from reclaimed carpet.These products are part of InterfaceFLOR's Convert design platform which recently received the first Environmental Product Declaration (EPD) for carpet in North America. Every decision made by InterfaceFLOR is designed to help the company achieve Mission Zero, their promise to eliminate any negative impact they may have on the environment by 2020.

The modular flooring is also an option for Home2 Suites developers as a value-driven benefit. The low maintenance and ability to selectively replace individual carpet tiles along with antimicrobial protection and sustainable raw materials provides developers with easy, low-cost upkeep and ultimately greater returns on flooring investments. For InterfaceFLOR carpet tile, both wet and dry cleaning solutions are available to aid in spot removal. Should the tiles become overly soiled, the 20-inch squares can be individually replaced instead of a large portion or potentially an entire room as with conventional roll carpet.

Home2 Suites forecasts 100 properties open by year-end 2012, with 60 to 70 per year thereafter. Immediate focus will be on U.S. development, with expansion into Canada, Mexico and abroad in subsequent years. The 35 submitted franchise applications include sites in New York City, N.Y., Baltimore/White Marsh, Md., Charlotte, N.C., Jacksonville, N.C., Gadsden, Ala., Elko, Nev., and three hotels in San Antonio, Texas.