Daily worldwide cotton market report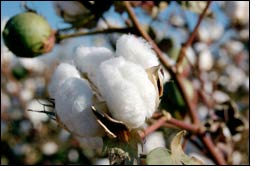 Last night in New York futures market, July 09 closed at 56.88 with a gain of 104 points the volume traded was 14405 contracts, the October 09 closed at 59.15 with a gain of 114 points and the volume traded was 667 contracts, while the December 09 closed at 61.09 with a gain of 116 points and the volume traded under December 09 cover was 7030. The cotlook A index declared settled at 61.80 with a decrease of 200 points today.

The spot rate of KCA moved and the settlement declared at Rs. 3550/=, with a decrease of Rs. 50/= today. In the domestic market today 200 bales of Vehari sold at Rs. 3425/=, 1600 bales of Bahawal Pur sold at Rs. 3350/= and 400 bales of Ahmed Pur East sold at Rs. 3400/=.

According to recently issued figures of USDA for the weekly export sales of US cotton Net Upland sales of 145,900 running bales were up 42 percent from the previous week and 43 percent from the prior 4-week average. Increases were reported for Vietnam (41,700 RB), China (27,100 RB, including 1,600 RB switched from South Korea), Indonesia (14,900 RB), Turkey (11,900 RB), Bangladesh (11,000 RB), Taiwan (10,500 RB), Thailand (7,800 RB), and Brazil (5,700 RB). Decreases were reported for Pakistan (1,100 RB), Singapore (1,100 RB), and South Korea (700 RB).

Net sales of 20,500 RB for delivery in 2009/10 were mainly for Turkey (9,500 RB), South Korea (3,900 RB), India (2,200 RB), and Ecuador (2,000 RB). Exports of 332,000 RB were up 20 percent from the previous week, but down 3 percent from the prior 4-week average. The primary destinations were China (91,100 RB), Pakistan (48,800 RB), Turkey (43,800 RB), Indonesia (21,800 RB), Mexico (20,900 RB), and Bangladesh (19,700 RB). Net American Pima sales of 6,500 RB were mainly for Pakistan (2,300 RB), China (1,000 RB), and Japan (900 RB, including 300 RB switched from Germany). Exports of 5,200 RB were mainly to Turkey (2,600 RB), China (800 RB), and Germany (500 RB).

Mr. Zhong Shan, the Deputy Commerce minister said on Wednesday that China's exports will slow during the first half of the year and that the outlook for the second half of the year is still not optimistic.

"India's cotton exports are likely to shrink 40% from a government estimate of 5 million bales for the marketing year ending Sept. 30, due to weak demand and lower output, industry officials said Wednesday, according to a Dow Jones report. A sharp hike in support prices has led to an increase in cotton prices, making Indian exports costly, industry officials said. One official from the South India Cotton Association was quoted as saying, "I don't think anything beyond 3 million bales of exports is a reality this year." In 2007-08, India, the world's second-largest cotton producer, exported 8.5 million (170 kg.) bales of cotton.

Ghulam Rabbani & Co.