Cotton must show some convincing stability this week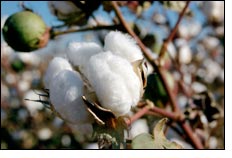 Monday, June 22nd Widespread, highly beneficial rains covered the High Plains of West Texas from top to bottom in the 48 hour period beginning Friday night. It is difficult to find any station that did not receive measurable precipitation during that period.

Key stations in the mostly dryland areas of District 1-S, such as Brownfield, Denver City, Lamesa, Levelland, Littlefield, Western Lubbock County, Tahoka, Seminole and Seagraves, received anywhere from one to three inches over a two day period. Friday's break started like a normal correction after failing to show any interest in testing Thursday's high. The rational behind Friday's collapse was most likely a lack of supportive buying followed by triggering trailing sell stops from Thursday's new found bulls.

Once new lows for the week were hit, it was all over. Analysts were lost to isolate any one reason for the break. Nevertheless, new seven week lows were in the offing. The popular July/Dec spread lost as much as 120 points from Thursdays high as short positions were rolled forward aggressively and mills stepped up the pace of their fixations in the July contract.

This added additional pressure to December. July's move to a 558 discount to December on Wednesday and Thursday almost guaranteed sponsorship of any delivery tenders next Wednesday. Cotton had its biggest one week losses of 2009. For the week, cotton July cotton lost 454 points while December was down 484 points.

The CRB Index lost right at a thousand points on the week. The Dow Industrials lost 260 points or three percent for the first weekly loss since early May. Escalation in the problems in Iran or Nigeria could of course keep bears at bay. Export sales for US cotton have been good the last two weeks due to the competitive position that both Texas and Memphis styles have had within Cotlook's A Index.

Going into the end of the week, Texas offers have been the cheapest in the world. Friday's collapse will most likely not change that since US prices are attached directly to futures. USDA gives a final plantings report a week from tomorrow, on Tuesday, June 30th. Informa Economics, the only firm who actually surveys other than USDA raised their estimate of cotton planting by 200,000 to 9.012 million acres. Half their increase is in Texas where they raised the estimate to 5 million acres.

With speculative interest rightfully becoming disenchanted with the bull side of cotton or cotton period for that matter open interest is now at its lowest level in over 3 1/2 years. It is difficult to predict whether cotton volatility will increase or decrease. On thing is certain, we do not need futures open over 17 hours and options less than four hours. A dollar index close above 81.36 will increase the odds that we have possibly seen the near term tops of several commodities for now, including cotton.

It is hard to imagine the spec community having a lot of independentinterest in cotton if the June 11, nearly $13 highs in soybeans, fade into a distant memory. Some analysts are also calling June 11 a near term high in the stock market; another influencing factor for cotton. I cannot help but think cotton must show some convincing stability this week, or the seasonal tendency for lower prices we have referenced the last couple of weeks might be upon us.