First quarter bodes well for Visaka Industries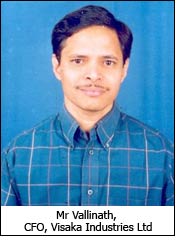 Visaka Industries Ltd, headquatered in Andhra Pradesh-India, the multi interest Group of companies engaged into manufacturing of cement asbestos and textile yarn, declared its first quarter results on Monday 20 July this week.

The Company has posted positive trend both in topline and bottomline figures this quarter. In the backdrop of continued fight with recessionary upshots and the start of slow recovery period from this economic havoc what all were the determinants that led the company to this satisfactory performance? How has the sops offered in the recent budget worked in the benefit of the company? etc.. were some of the issues that our News team put up before Mr Vallinath, the CFO of the company, a chartered accountant and cost accountant who has been with the company for the last 21 years and involved in the growth of the company from being a single unit with 9 crores turnover to multi-location, multi-division company worth Rs 600 crores turnover.

Mr Vallinath, also a member of the finance and taxation panel of CII, AP Chapter, speaking exclusively with fibre2fashion team shares his opinions as below.The excerpts;

F2F: How would you like to comment on your company's First Quarter performance of this year?
Mr Vallinath: The first quarter performance is very good. The company has done well both in it cement asbestos and spinning businesses.

F2F: Netsales show growth by 10% compared to same quarter of FY08-09. What all are the reasons behind this?
Mr Vallinath: The reasons for the growth of net sales are;
a. increased prices in the cement asbestos business
b. increased realizations in the domestic market for the spinning business.

F2F: Growth trend can also be seen in operating profit margins, can you please let us know the factors that led the growth?
Mr Vallinath: Operating profit margins have increased due to improvement of realizations in both the businesses. Rural demand is picking up in cement asbestos. We could add new customers and better fabric segments to whom we could sell at better prices in spinning business.

F2F: Please apprise us with your company's order book status?
Mr Vallinath: The order book position is comfortable. We don't have much stocks and the stock levels are at reasonable levels of about 20 days sales. The order book is adequate to sell the monthly production.

F2F: Any plans on anvil that you may wish to share as strategic activities for this year?
Mr Vallinath: Cost reductions, improvement of process efficiencies is a constant effort. In addition development of new markets overseas, adding new customers and segments in domestic market, and maintaining remunerative prices are some of the initiatives planned for the current year which should help us sustain the performance.