Maishaa's collection meets sense of elegance & modern technology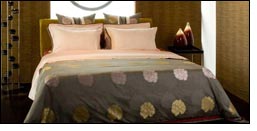 Pamper your abode with 17 new collections from Maishaa, India's most celebrated bed linen and home furnishings brand has launched its new collection of home furnishings in 1300 different patterns & colors gathering the premium essence from nature and various civilizations across the world. These seventeen new collections will add a sense of elegance to your abode. Woven in finest fabrics such as chenille, polyester, satin and silk, every collection has a unique grace to offer.

Colors used in all these collection truly justify their role. Colours such as Red, Green brown, beige, copper, bronze etc are dynamically utilized in these collections to bring in a fresh look. The New collections from Maishaa have a rich array of patterns like coloured stripes, elegant platted jacquard, floral prints etc. All these designs are woven using modern technology.

These collections are named after the themes on which they are based such as:

Crystal Chain: This collection is for modern style of decoration. The chain effect on the fabric named "lignee" resembles the loo2k of metallic loops on modern bracing material. The simplicity of design and blunt look of chain like materials gives the collection a minimalistic attraction.

Osman: The blend of mixed cultures by Byzantine, Turk, Arab and Mongol, all can be seen in this collection.

Seeking Sufi: Inspired by the contemporary translations of Arabian Art, this collection is an intriguing mix of classic and modern sensibilities.

Star of Stripe: This collection reflects the classic style which was widely popular in victorian period.

Arabian Nights: The nocturnal charm of Arabian Nights gives the collection a concept of dark tone and twinkling surface. The motifs have their origin from Persian astronomic patterns and Persian insignia.

Riviera: Inspired by traditional French motifs together with Mediterranean breeze, "Riviera collection" is created elegantly with the mood and tone of le Midi. The fabric Riviera is composed by finely selected yarns.

Kendedes: Kendedes is the name of first queen of Singhassari, a Hindu-Buddhism kingdom of Java in the 13th century. This collection has an inspiration from the Javanese form of art and colour tone.

Primrose: Escape to the floral and greenery landscapes. The collection primrose will introduce you to the English country where flowers are copious. The floral motifs are of traditional country style blended with modern colour scheme for contemporary interiors.

Mandarin: "Mandarin" has its root meaning from "his Excellency" or the greatness of the Manchu Nobles". It implies the extravagance of living life style. The silky effects of clothes and glittering motifs do give the collection a story to tell by itself.

Victoria: The Victorian era is known for its eclectic revival and the introduction of cross cultural influences from Middle East and Asia in interior decoration and aesthetic movements. The grandeur design of the fabric named "Kent" is representative of this collection. The colours used in this collection are truly oriental.