MP to initiate debate on Borders textile companies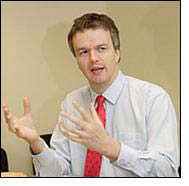 Local MP Michael Moore will stress upon Ministers to provide Borders textile firms with the financial and material support they need, after he was able to secure a Parliamentary debate on the issue.

Mr Moore has raised with the Minister's on a number of occasions, the question of difficulties that the Borders textiles industry is going through due to the consequence of the economic downturn.

Mr Moore has sent a warning that there is a risk of job losses across the sector, and said attention was needed in particular to the difficulties that the cashmere industry are facing in accessing export credit insurance.

He said Scottish textiles exports have fallen by over 10 percent in recent months and warned of the consequences of not taking action. He said a failure to take action now could result in significant damage to one of the few remaining world-class Scottish industries.

The Borders textile companies may have full orders but are experiencing severe problems in securing export insurance and essential credit facilities on reasonable terms and funding for training and skills development has also come under severe pressure.