Polymer Group to acquire Tesalca-Texnovo nonwovens business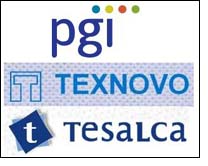 Polymer Group, Inc. announced it has signed a definitive agreement to acquire the Barcelona, Spain-based Tesalca-Texnovo nonwovens businesses from Grupo Corinpa, S.L. in a two-phase process. The purchase is expected to close by the end of November, subject to customary closing conditions.

In conjunction with the transaction, PGI and Grupo Corinpa will initiate a long-term partnership that includes share ownership by Grupo Corinpa in PGI and representation on the PGI board of directors.

The businesses will be operated as a new wholly owned subsidiary and will have in excess of 50,000 metric tonnes of combined capacity. The acquisition furthers PGI's strategy of strengthening its position as the global leader in the hygiene market by increasing its presence in Europe, the world's largest volume market, and bringing it into new markets in Western Europe and Northern Africa where Tesalca-Texnovo has a strong customer base. After the consummation of the transaction, PGI's global spunlaid capacity will be in excess of 285,000 metric tonnes.

Texnovo was founded in 1989 as a family-owned private business focused on the industrial segments and the Tesalca business operations were added a decade later to supply the hygiene and medical segments. With approximately 280 total employees and combined 2008 annual sales of approximately $87 million, Tesalca-Texnovo is the only organization that manufactures spunbond polypropylene nonwoven materials in Spain and is a leader in the European market.

The Tesalca-Texnovo operations are headquartered in Barcelona and operate two plants in Tarragona, Spain on the same property, with six Reifenhauser Reicofil lines serving the hygiene, medical and industrial/agricultural segments.

"This acquisition will give us a larger platform for growth in this part of the world and will further our strategy to be the global hygiene leader," said Veronica (Ronee) Hagen, PGI's chief executive officer. "The Tesalca-Texnovo business is a good fit with our hygiene, medical and industrial businesses, and will allow us to leverage our global customer relationships and operational excellence."

"Through this transaction, the Tesalca-Texnovo businesses will grow under the ownership of a large, globally recognized premier nonwovens producer," Jose Durany, managing director of Tesalca-Texnovo and member of Grupo Corinpa S.L., said. "This will be a good union between companies with similar goals. We look forward to being long-term partners with PGI."

Jaime Carreras will become the general manager of the new PGI Spain upon closing of the transaction. He has been with Tesalca-Texnovo for over 20 years and has been general manager for Tesalca-Texnovo running daily operations since 2007.

The interests of Grupo Corinpa S.L. were represented by Jose Durany and Juan Pich-Aguilera Roca. Durany was responsible for starting the Tesalca hygiene business in 1999 and has provided senior leadership to the business since then. Durany will become special consultant to PGI to ensure a smooth transition of the acquisition and to provide on-going insight and leadership advice to the PGI board of directors regarding the European market.