German Soft Coating provides differences for Berto SPA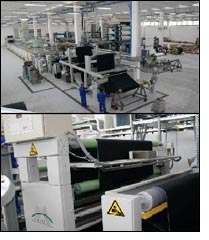 Italian flair and German innovation make a happy marriage as integrated designer-denim producer Berto SpA installs the country's first Monforts stenter line with integrated Soft Coating technology.

Variety is considered the 'spice of life', but it is also something of a survival strategy for Berto Industria Tessile SpA, - shortly to celebrate its 120th anniversary and headquartered in the beautiful village of Bovolenta, in Padua, Italy.

Established in 1889 and originally producing sail cloth for Venetian sailing ships, it expanded its range to include woven fabrics for work garments, table linen,shirtings and, in the 1980's, denim.

A strategy of continuous investment has been a key to the company's continued success – for example in the early 1960's it began spinning its own open end yarns and adding ring spinning in 2004.

As denim output intensified the company installed an indigo dyeing plant. Today, as part of a major modernisation and expansion programme, Berto has just taken delivery of a new Monforts eight-chamber Montex stenter – the country's first to feature the latest Soft Coating technology installed in-line. This,explains Berto's Finishing Division Manager Sebastiano Antico, will enable the company to increase even further the wide range of differentiated fabrics – primarily denims – it is manufacturing each season. The sensor-controlled Soft Coating unit is a very efficient new method for applying dyes and coatings via a sophisticated roller system.

"It allows very precise applications of moistures (proofing, hydrophobic, functionality) on just one side of the material, or on both, or even to have separate treatments on each side, as required," explained Monforts Area Sales Manager Henning Frank. "The sensors automatically adjust the moisture application rollers to the speed of the fabric and can move with or against the line, depending on the desired objective."

"Not only does this open up the potential for a wide range of new treatments and effects to be achieved," adds Ariodante Corna, of Monforts Italian representative Sacconaghi Monaco, "It can also lead to big savings as a result of the amount of reduced drying energy for the fabric being used.

As a supplier of denim to the leading European designer brands – including Armani, Dolce & Gabbana and Valentino in Italy alone – Berto has been quick to see the potential of this new technology.

Obvious initial results have centred on the ability to instantly produce denims that are tough and resilient on the outside, with a softer and more comfortable inner, or in colours that are applied to certain areas of the fabric, but the company has many other new ideas in the pipeline, which it believes are giving it a vital innovation edge over the competition.

"We are very excited by the new Soft Coating technology because it offers a lot of potential for us to further differentiate our materials, building on in-house know-how developed over many years," says Mr Antico. "As far as denim is concerned, there is a constant demand for new looks and effects." Short lots of the highest quality materials – in total between 500-600,000 metres a months – have been the key to Berto's recent success.