Textiles & apparel market ripe for FDI: Textiles Minister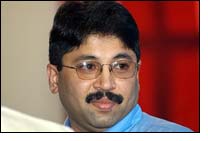 Indian Textiles and Apparel market is currently valued at US$ 40 billion and is growing at 14%, and most of the top global apparel retailers have their scouring network in India like JC Penney, Nautica, Dockers, Bed Bath & Beyond, Target, Kohl's, Liz, cK, Sprit, M&S, GAP, United Colors of Benetton, Mango, Zara and Dillard's, said Thiru. Dayanidhi Maran, Union Textiles Minister while inaugurating the 25th IAF World Apparel Convention here on November 19, 2009. Thiru. Jyotiraditya Scindia, Union Minister of State for Commerce and Industry also addressed the gathering.

There is an urgent need to attract and sustain FDI in textiles sector if India has to achieve the goals of employment generation, technology up gradation, creation of brand India and attain 4% share in global trade in textiles and clothing, said the Minister. India, which is the only bright spot along with China in otherwise bleak global economic scenario, with ever increasing per capita, household and discretionary income, with US$ 425 billion (Rs. 19,46,500 crore) retail Industry will be an attractive destination for foreign Investment in coming years.

The Minister said that he had led a Industry delegation to Tokyo, Las Vegas, Zurich, Milan and Istanbul and invited the major international player to collaborate with Indian textiles Industry in manufacture of fabric and garmenting, setting up of Green Field Units in textiles machinery, manmade fibre and yarn and create brand equity with Indian Apparel Company. The response has been overwhelming and we expects to get positive results very soon, informed Thiru. Maran.

The Textiles Minister said that Indian textiles and apparel exports, which are currently US$ 22 billion, are expected to register four folds increase to touch US$ 90-100 billion in the next twenty five years. Approximately 60% of Indian exports of textiles and over 70% of clothing are to USA and EU 27 markets, and there is an urgent need to broaden product mix and explore new markets, while maintaining and increasing Indian textiles and clothing (T&C) share in core markets through product innovation and diversification, said Thiru. Maran. To diversify the T&C exports and reduce dependence on USA and EU 27, the Government is promoting exports to Japan, South East Asia and Australia under its 'Look East Policy', said the Minister.

The Textiles Minister outlined that in order for India to have double digit growth, attributes such as job creation, inclusive economic growth, infrastructure development and health care improvement are minimum requirements. The technical textiles will play an important role in all these aforementioned areas, said Thiru. Maran. There is an immediate need to increase technical textiles usage in our country, which is 4% as compared to international norms of 22%, emphasized Thiru Maran.

Speaking on the occasion , Thiru. Jyotiraditya Scindia, Union Minister of State for Commerce and Industry welcomed the participants and gave an overview of the foreign trade scenario. He said that with skilled manpower, diverse raw material base and growing economy, the Indian market is an attractive destination for foreign capital. He said that his Ministry is taking steps to diversify Indian exports to new and emerging markets. In the Foreign Trade Policy 2009, twenty nine countries in Latin America, Africa and Oceania have been given special thrust under the Focus Marketing Scheme and Focus Market Scheme.