Banana fibre device with potential to wipe out poverty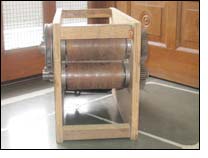 Mann Society a not for profit, non-governmental and non-religious voluntary organisation, is the brain child of a young man; Ashish Khatri who is still in his teens. The vision of Mann Society pertains to transforming India into a developed country by 2020 and at the same time save and protect the environment from the adverse impacts of global warming, plastic waste, marble slurry, greenhouse effects and save trees.

Ashish Khatri has devised a machine which can peel the waste banana stems, turn them into fibres to be turned further in to handicraft products like mats, paper, ropes, fabric, which is wearable and light in weight and many other products. In the medical industry it can be used for treatment of kidney stones and for animal sterilization.

He is also a recipient of a number of awards and prizes among which he has received a honour of being named "Junior Scientist of Rajasthan', by none other than the former President, Dr Kalam. He was also honoured by the Government of Rajasthan on Republic day in 2006. He has secured the first position in the India International Rural Cultural Festival in the "Field of Science" held by Ministry of Youth, India and has also bagged the first position in an exhibition organised by the Department of Science and Technology in 2006.

Fibre2fashion took the initiative to speak exclusively to this young and dynamic personality who is also the chairperson of Mann Society. We began by asking him to reveal the reason behind selecting the acronym 'Mann', to which he replied by saying, "Mann stands for 'Make Atmosphere & Nature Neat'…. and clean.

Continuing he said, "Mann Society was registered on March 31, 2009 under the Government Act and was the first organisation for Global Warming in Rajasthan and the society is meant for the youth of today and invites all like minded people to join who want to change and fight against things which are harmful for our nature and in recent months we have being able to register over 25,000 youths from across India."

Next we asked him to reveal the inspiration behind the banana stem project, to which he said, "Natural fibres like cotton, silk and many more others are derived from the earth, by cutting plants and trees and which also harms the creatures residing in the soil, but once the banana tree is harvested, it becomes waste, so we have invented a machine, which will produce fibres from the stems of the waste banana plant and have applied for a patent too."

We then asked him to divulge details about the machine, to which he explained by saying, "We call the machine a "Banana Peeling Device Machine", which is also an eco-friendly, easy to operate and cost effective machine, which can be handled by any person; male or female.

We then asked him about the challenges and tribulations he faced while designing the machine, to which he replied by saying, "In India everybody is affected by the bureaucratic attitude of the government and I too had to suffer from the same. I started working on this project six years back, but it is only in the last two years that I was able to meet with success.