SABIC biggest exhibitor at 'CHINAPLAS 2010'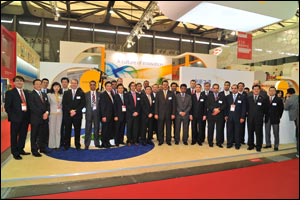 Saudi Basic Industries Corporation (SABIC) has taken on the largest exhibition spaces this year at the CHINAPLAS 2010 Exhibition to be held at Shanghai's New International Expo Center from April 19 through April 22.

Officially designated as the 24th annual event in the exposition's history, this year's trade fair carries the theme, "Green Plastics: Our Goal, Our Future." More than 75,000 visitors are expected to attend this year's fair to view exhibits by about 2,100 exhibitors from 30 countries.

"China is the world's strongest growth market and a strong focus for SABIC's strategic plans," said Mohamed Al-Mady, Vice Chairman and CEO of SABIC, "and we intend to engage with our customers and partners in China to pursue "greener" sustainable development going forward.

The Chinese plastics industries have maintained steady growth in output and output value and are major customers for our exported products, including feedstocks for their plastics industries and thermoplastics for the automotive, aircraft and consumer electronics manufacturers. Moreover, China's own domestic demand is also expected to further contribute to a noticeable pickup in growth."

The variety of products that SABIC exports to China, in turn, supports the manufacture of film, pipe, textiles, cable coating, automotive materials, and many other products. Production from the new petrochemical complex at Tianjin, built and operated as a joint venture with China's SINOPEC, will also further bolster SABIC's strategic presence in China.

SABIC is also showcasing its Innovative Plastics unit's thermoplastics and high-performance applications that solve key industry challenges, including those related to sustainability and system cost reduction. The company will also demonstrate the capacity of its Color Innovation Center in Shanghai, which offers fast and accurate ColorXpress color customization and color matching services of interest to many industry applications.

Sustainability solutions based on reducing weight, fuel usage and emissions, and including also the use of recycled plastics or bio-based materials, as well as non-halogen, flame retardant (FR) materials, will be introduced to trade representatives. Additionally, award-winning Valox iQ* resins that utilize up-cycled polyethylene terephthalate (PET) water and tea bottles are featured in colorful chopsticks from Sanshin Kako. These can be reused up to 1,000 times and are certified as an Eco-mark product in Japan.

SABIC will also feature system cost reduction benefits and competitive advantage as two of its key themes. A set of decorative lamps from NingBo ITG Lighting designed to illuminate an Italian opera house features shades molded from transparent Lexan* FR polycarbonate (PC) resin, another Innovative Plastics material that offers outstanding UV resistance without the cost of secondary coating that traditional PC grades require.

Window profiles from Shide Group (Dalian, China) are also on display and are extruded from polyvinyl chloride (PVC) with cap stock made from weatherable Geloy* resin. The appealing molded-in copper metallic effect of Geloy resin surpasses traditional painted aluminum, helping contractors stand out from the competition when bidding on housing projects.