Chirala handloom fabrics famous since times immemorial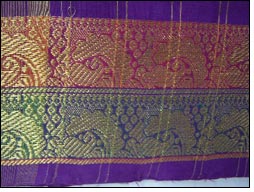 Chirala (Chira means saree) was formerly known as "Ksirapuri" meaning (Sea like a Milk) is situated on the Bay of Bengal. Chirala town is well connected to the main railway line and NH 5 road line (Kokatta to Chennai). There is also an airline service from Vijayawada, which is just 110 km away.

The Chirala handloom industry is famous since times immemorial for producing variety of fabrics which brought name and fame to the nation as well as to this area. Even before the industrial revolution took place in the west, the rural artisan weavers of this area had done marvelous work of producing 7 yards of saree, which could be fit in a match box, which speaks of highest excellence in the art of weaving, unmatched skill and talent of the handloom weavers.

During the 13th century, the Italian traveler Marcopolo had visited this area and he mentions about handloom weaving and exhibition of skills of the weavers in production of finer varieties and also reveals the historic evidence about attaining the peak of excellence in weaving skills.

In 1920 a group of weavers formed a Handloom Weavers Co-Operative Society. During 1952 a co-operative spinning mill was inaugurated by Sri Jhawarlal Nehru, first Prime Minister of independent India. This area is famous for its production of traditional varieties of zari sarees and dhoties which has sales limited to the local market.

In 1973, began the production of "Real Madras Hand Kerchiefs" manufactured with artsilk and zari (metallic thread glittering like gold) on jacquard looms and was exported to African countries. The introduction of this exportable variety and its popularity in the weavers of this area had not only improved the living conditions of the weaver but also contributed to earning foreign exchange for the nation.

Because of its attractive and glittering design and texture, the fabric is attracting the attention of consumers in foreign countries. The "Real Madras Hand Kerchiefs" variety is also being manufactured in the countries like Bangladesh and China. The quality of the fabric being produced in this area will not give any odour to the fabric, because of the climate and water used during the process of dyeing. Whereas the fabric produced in Bangladesh and China is not like the one manufactured in Chirala.

This variety of fabric had a good export turnover for over 15 years, but has now come down in the last few years. Even now, there are about 1000 looms producing this variety and still about Rs. 100 million worth of the material is still being exported per annum. The other weavers who stopped producing this fabric, shifted to production of lungies, hand kerchiefs, sarees, dress material etc.

There are hundreds of young and dynamic weavers who shifted to hand-painting and spray-painting work on sarees from 1983 onwards and were able toearn about Rs. 6000-8000 per month. Since the last six years, these weavers have also started embroidery work, which is providing an alternative for those weavers who do not wish to continue weaving. They are also earning about Rs. 4000-6000 per month. The sarees are supplied by local traders for painting and embroidering work, which are then sold in local as well as markets outside the states.