Matchless combinations for Legwear with Lycra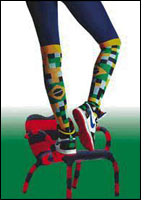 INVISTA, one of the world's largest integrated producers of fibres and polymers, has launched its Legwear Innovation Collection for Autumn / Winter 2011 – 2012 with an emphasis on providing fashion-forward styles and solutions for this diverse sector.

Stand-out legwear has been a fashion staple on catwalks across the world for the past few seasons and there are no imminent signs of its 'must-have' crown dropping with cutting-edge trends still proving their popularity with consumers.

For Autumn / Winter 2011 – 2012, experts at INVISTA predict that both the fashion industry and wearers will be breaking away from classical shapes and bold colours to make way for matchless combinations that combine both style and comfort. The trends promise to use innovative new technologies and yarns that are set to send the fashion world into a frenzy.

In true INVISTA style, eight key trends have been revealed:

Raw Romance

• This is a true romantic collection that offers a wide selection of materials that range from organic silk, lace and hand knitted effect and Gobelin looks.
• A trend with a vintage spirit where soft and pastel colours make a comeback to unite with nude tones, lilacs and dusty whites as well as darker shades such as burgundy.
• For this season, wearers can be on-trend with knee-high and over-the-knee legwear that showcase loose hanging laces and sashes.
• This collection will give the wearer ultimate comfort, thanks to a touch of LYCRA fibre that provides soft yet beautifully stable hosiery.

Natural Vibes

• Natural Vibes is the ultimate trend for the true nature lover. The look focuses on comfort and natural elegance legwear trends with rustic, organic patterns in cable knit socks, legwarmers and knee highs.
• Colours are inspired by natural, earthy tones of rich browns, deep forest greens and stone greys
• This collection combines the softness and drape, cotton touch and wool with LYCRA fibre for shape, fit and comfort.

Festival Nomads

• Set to warm up the winter months with a lively collection that has been influenced by world cultures and folkloric influences.
• African, American and Asian patterns are blurred into one world to create a wide variety of eclectic, vibrant legwear with warm, winter spiced colours.
• Adding a shocking depth of intense dark colours, the presence of LYCRA fibre allows the tones and patterns to work in perfect harmony. Legwear with LYCRA fibre fit both sheers and casual cottons.

Glamazones

• The Glamazones trend is for the lovers of shiny and shimmery legwear.
• Wearers can indulge in a kaleidoscope of patterns coupled with a wide array of beads, crystal made with Swarovski elements, sequins and metal embroidery all adorned on beautiful collection of metallic greys and blues.
• The fashion-forward can rest assured that they will receive an all day sleek fit thanks to LYCRA fibre that offers long-lasting shape.