QITMF inaugurates its 11th edition today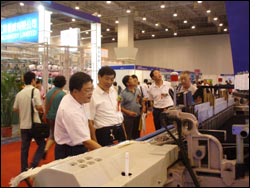 The 11th China (Qingdao) International Textile Machinery Fair (QITMF) opens (September 15, 2010) at Qingdao International Convention Center, Shandong Province, PR China. Authoritative symposium on Yarn and Fabric organized by China Textile Engineering Society will be held concurrently (on September 16, 2nd show day) to enhance the show professionalism.

Being the most developed and leading textile machinery show in Northern China, QITMF is the significant platform for the industry to showcase the latest textile machineries and exchange technological information, which also serves as a bridge for industry players to explore Northern China market, enhances the business interaction between upstream and downstream corporations and motivates the integration of the industry. Since its successful inception in 2000, QITMF has gained the industries' recognition and applause.

QITMF 2010 is categorized into 5 different theme zones, namely Knitting Machinery Zone, Dyeing & Finishing Machinery Zone, Spinning Machinery Zone, Weaving Machinery & Label Making Machinery Zone, and Printing Machinery Zone. Major exhibits include Knitting Machinery, Fiber Manufacturing Machine, Bleaching, Dyeing, Printing, Finishing and Making-up Machinery, Spinning Machinery, Textile Chemicals, Weaving Machinery, Yarn Twisters, Winders, etc. QITMF 2010 presents 4 highlights, shaping a splendid gathering for the Northern China textile industries.

Highlight 1: Brilliant Concurrent Activities
China Textile Engineering Society has collaborated with Adsale Exhibition Service Ltd and Qingdao Haiming International Exhibition Co., Ltd. to invite the industry experts and professors to give a lecture on Yarn and Fabric on September 16, 2010 (2nd show day of QITMF) and it's free for show visitors and exhibitors. The speakers will focus on the response to the dramatic changes after financial crisis and how to promote industry upgrade and development.

They will provide in-depth analysis of the current international economic situation, explain how to enhance product innovation & new technology application and to increase the core competitiveness of products, encouraging textile industry to grasp the opportunities for growth and development.

Highlight 2: A Textile Industry Gathering of Renowned Enterprises
The show gathers reputable textile enterprises including Chemtax Industrial Company Ltd, Nan Sing Machinery Ltd, Jakob Mueller Machinery (China) Co., Ltd., Erhardt+Leimer (Hangzhou) Co., Ltd, etc. Besides, there are exhibitors who participate with larger exhibiting area, namely Guangdong FengKai Machinery Manufacturing Co., Ltd., Kwang Jin Machinery Technology (Shanghai) Co., Ltd., Dongguan Tongxing Ribbon Machinery Factory, The Qingdao Jiaonan Huifeng Machinery Co., Pingyang Yile Weaving Machinery Co., Ltd, Xuzhou Henghui (China) Braiding Machine Co. Ltd., Wenzhou Darong Instrument Co., Ltd, as well as Changshu Guosheng Knitting Machinery, Yuyao Huayuan Textile Equipment Co., Ltd., Yantex (Yantai) Precision Textile Accessories Co., Ltd, Shanghai Sweet Sea Belt Machinery Co., Ltd, Yiwu Jebtex Machinery Co., Ltd, Introtech (Shanghai) Ltd, Vake Transmission Suzhou Equipment Co., Ltd, Shanghai Hongyue Textile Machinery Co., Ltd, Tit Fai Engineering, Yantai Tiancheng Needle Co., Ltd, Dongtou Guotai Electronic Co., Ltd, Shanghai Biduqi Trading Co., Ltd, Wenzhou Fangyuan Instrument Co., Ltd, and Changzhou Zheng Lu Plastic Wire Disc Co., Ltd, etc. They will showcase international latest products and technology to the visitors, which mobilize technological upgrade of textile industry in Shandong province and the surrounding cities.