Solution for Improving Quality and Performance by Bureau Veritas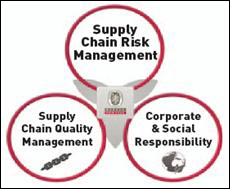 With labor and production costs in China rising, and with raw material prices such as cotton continuing to rise, more and more buyers of consumer products are evaluating their sourcing approach, increasingly exploring sourcing from South Asia. This shift also comes at a time of economic growth in South Asia.

Figures from the US Census Bureau highlight that apparel exports to US from South Asia have grown 5% year to date based on 2009, 15% growth in the second quarter alone. Exports of apparel from South Asia to Europe are also on the rise with 5% year on year growth in the second quarter of 2010.

As a global leader in concept-to-consumer quality assurance and compliance services, Bureau Veritas' Consumer Products Services division (BVCPS) are offering their Supply Chain Risk Management solution to help the consumer product supply chain benefit from these positive trends whilst reducing costs and risk.

By embracing this solution, companies making, distributing or selling products can vastly improve their product quality, safety, compliance, sourcing flexibility, speed-to-market, profitability and brand security throughout the supply chain.

B.S.Prasad, Manager – Supply Chain Solutions, BVCPS India states, "The key to optimizing a supply chain is to address the total cost of quality and not just assess each constituent part such as testing and inspection on their own. It is also vital to have clear objectives understood throughout your supply chain as well as a clear understanding of the risks within each supply chain and product life cycle stage.

"To achieve this, all players must be operating efficiently, transparently and in compliance with the regulatory and industry requirements. Issues around sustainability / corporate social responsibility are also becoming a more and more important factor with companies needing to be able to prove that their products are made in alignment with the highest ethical standards, as well as with a reduced impact on the environment.

"As we continue to operate in a highly competitive global marketplace; manufacturers, distributors and retailers are increasingly sourcing from a worldwide chain of suppliers. To protect and increase their profitability, the consumer product supply chain is under pressure to get innovative, high quality, safe and compliant products to market as quickly as possible; our Supply Chain Risk Management solution is positioned to help companies realize these goals.

"By innovatively utilizing advisory services with the results from multiple discreet services such as design evaluations, factory assessments, social audits, testing and inspection; we have helped companies improve supply chain performance, reduce the risk of returns and failures whilst protecting their brand."

Bureau Veritas Consumer Products Services (I) Pvt. Ltd.