Less MMF players does not necessarily imply a constraint: CFO, Grasim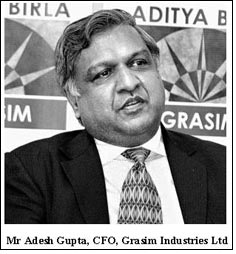 Textile industry in India is recognized across poles as most versatile, diverse, and for horizontal as well as vertical linkages. Encompassing the globe hardly a country equals to India in context of accessibility of entire supply chain across variety of fibres at hand. Thus, making markets for each fibre product to be potential inland and overseas.

As obvious situation, to decide on right mix of fibres to be favoured justly into the National Fibre Policy draft, was a tough conscientious task to avoid dissensions amongst the players. No surprise, there prevails a mix of opinions amongst industry. Not known by many, the NFP has been an old demand. It was envisioned to create an environment in which the various sections, particularly cotton and man-made fibres, could access adequately priced fibre through the year. The need existed but provoked due to the increased dependence of the Indian textile industry on cotton, as the man-made fibre industry lagged, contrary to the situation prevailing globally. As the draft of NFP is going through its official formalities for sanction and public announcement by cabinet, Fibre2fashion got a chance to get a review of the fibre giant- Aditya Birla Group on the same.

"The Draft National Fibre Policy (DNFP) is a significant step towards the progress of the Indian Textile Industry, noteworthy looking into the expanse, fragmentation and scope of improvement that this Industry needs," avows Mr Adesh Gupta, CFO, Grasim Industries Ltd, in those chinwags about pros and cons of the policy with our News team.

Gushing out on the benefits, he told "The hallmark of the Draft National Fibre Policy lies in its move to create a more fibre neutral policy to create a broad based level playing field for both natural and man made fibres"

According to CFO, the major strengths of this policy stem from- Attention to boost the production and consumption of man made fibres in India in line with the global trends; Continuation of the modernization and technology up-gradation initiatives for the sector; Introduction of institutional mechanisms to monitor, steer and strengthen the growth of the textile sector; and Adoption of a Focus Fibre Focus State approach to bring in more accountability to the development of other natural fibres.

Acknowledging that the policy is a step in the right direction, as a representative company of the man made fibre industry, Mr Gupta at ABG expressed to draw industry's attention to a few issues too. Enumerating them he brought out that the fact that limited number of players in MMF does not necessarily imply a constraint. Man-made fibres, unlike other fibres, are produced by large multi-nationals countries that respect and understand the need for growth of the Textile Industry as a whole. The pricing policy on import parity basis at landed cost is surely considered but the contribution to yarn manufacturers is also a critical input factor for pricing, he accentuates.