PHMA to open Sourcing Office in New York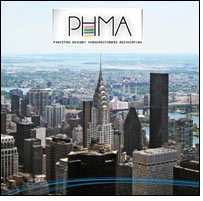 For decades, USA has been Pakistan's major trade partner. In 2009, USA was the destination of 18.3% of, Pakistan's total exports where textiles & apparels had a major share, In Knitwear. USK is destination of 62% of exports from Pakistan; In Home textile the share in exports is 42%.

The two nation also share geopolitical goals in term of global and regional strategy, which materialized in Pakistan becoming a major ally of USA in the war on terror, Unfortunately, for some time, business ties with USA have been adversely affected due to the decline in visits to Pakistan by our US customers owing to negative travel advisory by foreign Governments and law and order concerns rooted in our strategic alliance with US.

For a long time, the above issue has been our centre of attention and deliberation, until we envisaged the establishment of a sourcing office in the USA which could bridge the distance between our industry and the US buyer.

In order to the facilitate access to our products and industry, the PHMA (Pakistan Hosiery Manufacturers Association) is establishing a Sourcing office and display centre of the Association in New York City, which will open a gateway to 1,200 manufacturers and exporters of knitwear and knitted textiles in Pakistan, facilitating a channel of communication and trade between the US buyer and the industry in Pakistan.

The increased activity of PHMA members would translate into increased production activity and creation of further employment in the country.

PHMA New York Office: Scope of Work

The office would market Pakistani product among the US fashion and garments companies. It will also timely update the textile industry in Pakistan about the changing fashions and trends in the West. Main objectives are described as under:

• To facilitate a channel of communication and trade between Pakistani exporters and US buyers. 'PHMA office in USA will attend and process inquiries of local buyers and forward the same to Pakistan exporters.
• To offer Consultation/information services for local buyers on Pakistani products and suppliers, All local inquiries will be passed on to concerned exporters based on matching criteria.
• To provide a platform for one to one live interaction between exporters and US buyers based on matching criteria, through facility of video conference for online interaction between exporters in Pakistan and the foreign buyers.
• To enable the private sector to build a positive image of Pakistan in the US market and create' awareness about Pakistan's potential and products.
• To provide warehousing facility in order to meet short-term delivery requirements: Today garment buyers are increasingly concerned about cutting inventory costs, hence they look for faster and more frequent deliveries in smaller quantities. Also, they have to consider efficient lead times in face of fast changing trends and fashion; some major retailers in USA now display up to 12 collections a year. A system will be devised, in which "ready to sell" products should be available to the buyer in USA.