Cotton trade to rebound in 2010/11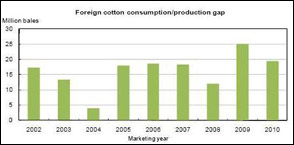 The latest U.S. Department of Agriculture (USDA) cotton projections for 2010/11 indicate that while foreign cotton consumption is expected to rise, foreign production is forecast to increase faster. As a result, the 2010/11 gap between consumption and production is projected to decrease.

While the world economy continues to recover, tight supplies are expected to limit the growth in foreign cotton consumption to 2.5 percent. In comparison, the foreign crop is estimated at 97.8 million bales, nearly a 10-percent improvement over 2009/10, as foreign area rebounds to its largest in 4 years. With foreign production rising more than consumption, the consumption/production gap is expected to decline to 19.4 million bales in 2010/11—a nearly 6-million-bale decline from 2009/10's high. However, foreign beginning stocks are at a 7-year low, boosting import demand in 2010/11. Consequently, demand for U.S. cotton is forecast to rise, with U.S. exports projected to account for around 40 percent of global trade in 2010/11.

World cotton production, which sagged in the 2008 and 2009 marketing years due to the global financial crisis, is expected to rebound to 116.7 million bales in 2010/11. This will be a 15-percent increase from the previous year and the highest year-to-year rebound in 7 years. Continuing strong market prices for the fiber has resulted in production responses in some major cotton producing countries.

Australia's 2010/11 crop is forecast at 3.3 million bales, more than double the previous year's crop, as improved water availability and favorable market conditions are boosting planted area in the Southern Hemisphere country. Australia's 2010/11 cotton area is forecast at 425,000 hectares, up 113 percent from a year earlier and the highest cotton area in a decade.

Brazil, another Southern Hemisphere country, is expected to produce 7.0 million bales, up 31 percent from the previous year and one of the highest outputs on record. Growers are expected to increase area 25 percent in response to higher cotton prices and rising demand from China and other countries.

China, the world's leading cotton producer, is forecast to produce 31.5 million bales in 2010/11, down 1.6 percent from the previous year. China's cotton production has declined for the third consecutive year. Cotton area in China in 2010/11 is forecast at 5.25 million hectares, unchanged from the previous year's harvested area. But adverse weather in some areas is expected to reduce yields.

India's 2010/11 production is forecast at 26.0 million bales, up 12 percent from a year ago and the highest on record. Increasing adoption of Bt cotton in India in recent years has contributed to production gains, and rising prices further boosted planting there this year. Cotton area in India in 2010/11 is forecast at 10.9 million hectares, up 6 percent from the previous year and yields are likely to rebound due to improved monsoon coverage.