Breakthrough enables sustainable nylon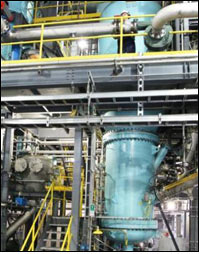 Genomatica has received two foundational patents from the United States Patent and Trademark Office that further enable its product strategy and feedstock flexibility. Together, these two research breakthroughs demonstrate how to "green" nylon, one of the most common materials in hundreds of consumer products, and how to gain further cost advantages when manufacturing sustainable chemicals and the materials made from them.

Coupled with Genomatica's strategy of partnering with the chemical industry, these latest milestones speed a transition to a more sustainable chemical industry, both environmentally and economically.

Patent number 7,799,545, titled "Microorganisms for the production of adipic acid and other compounds," describes how to produce a "green" version of key intermediate chemicals used to produce nylon. Genomatica's patent describes organisms that use renewable feedstocks, or raw ingredients, such as commercially-available sugars, instead of crude oil or natural gas.

These organisms directly produce adipic acid and 6-aminocaproic acid (6-ACA), which can be used to produce nylon 6,6 and nylon 6, respectively. Over 10 billion pounds of nylon are used per year, worldwide, in clothing, stockings, carpet and more. Production of these green intermediates would allow a renewable, sustainable nylon, using existing manufacturer equipment and processes, and with a smaller environmental footprint.

Patent number 7,803,589, titled "Methods and organisms for utilizing synthesis gas or other gaseous carbon sources and methanol," describes how to engineer an organism to use syngas as a feedstock to make green, sustainably produced versions of major chemical products. This is significant because syngas is generally less expensive than other renewable feedstocks, and can be sourced from a wide variety of raw materials including biomass or municipal solid waste – garbage. Genomatica's invention provides a platform for creation of numerous, major high-value chemicals, at lower cost.

Syngas is produced throughout the world from natural gas or liquid hydrocarbons, and through the gasification of coal, biomass and waste materials. Syngas is a low-cost input material often used to generate power in the form of electricity, and can also be converted into liquid fuels. Prior to Genomatica, converting syngas to chemicals could only be done through chemical processing techniques, which were generally energy-intensive and limited in their ability to produce specific chemical products.

Now, Genomatica's patent describes how they can use their bio-technology to design organisms to efficiently and economically convert syngas into specific target chemical products. This is analogous to how Genomatica has designed and engineered organisms to convert sugars into 1,4-butanediol (BDO), a non-naturally occurring chemical that is widely used.