Launch of Entrepreneur Pro PR-1000 with 3D technology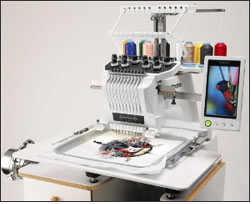 Brother International Corporation is raising the bar on industry trends and technological advancement once again, this time by introducing the first 10-needle home embroidery machine in 3D.

As the first company in the niche sewing and embroidery industry to incorporate 3D video into their product launch, Brother continues to impress their customers with excitement and innovation. Although 3D technology is taking over movies, television and even video games, there are few companies who have used it to promote their products.

The Entrepreneur Pro PR-1000 is an impressive, sixth generation machine. It is the result of more than 100 years of Brother research and innovation. The technology built into the 10-needle embroidery machine makes it easy to learn, use, and operate.

It is the fastest home embroidery machine yet since a 10-color, 50,000 stitch-count design can be completed up to 12% faster than a 6-needle machine and up to 30% faster than a single-needle machine. This means an embroiderer can be more productive than ever before. Other impressive features include:

• New InnovaChrome LED Color Thread System: Underneath each of the thread spools is a full color LED light which mimics the color of the thread that belongs on the spool for each design, eliminating any guesswork as to what color thread should be used. The lights also double as a visual status system. They also flash when a design has been completed. Coupled with audio cues, the system allows an embroiderer to limit their supervision of the machine, as these cues give the operator the freedom to do more than one task at a time in their work room.
• InnovEye Technology and Up-Close Viewer: It is like having a built-in camera above the needle. This user-friendly interface is the same that is in the popular Quattro 6000D, which was recently awarded a prestigious 2010 iF Communication Design Award in the Product Interface category—a reliable indicator of outstanding quality in design.
• Grid Function: Lets the embroiderer position their design in any location or angle. It is perfect for working with pre-made items like bags or small items. Simply mark the fabric, and then see the mark on the wide-angle LCD touch screen display screen from Sharp Corporation with a grid that helps the user align the placement.
• Five full spectrum LED lights: Each light is equivalent to seven standard LED lamps, which is like having 35 lights shining directly onto the work area.
• Ability to link multiple machines with PE-DESIGN NEXT: for the first time in home embroidery, businesses have the convenience of managing the work of four machines through one interface when using the newest embroidery software, PE-DESIGN NEXT. The Link Function is great when there is a need to stitch out several pieces with the same design at the same time, but really comes in handy when an embroiderer needs each machine to stitch out different designs at different speeds simultaneously.