Indian T&C sector on threshold of golden era: CFO, Alok Ind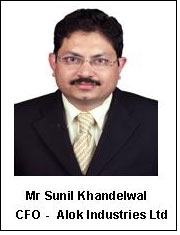 Enough about China, its India's inning now! Textile veterans ideate a great decade ahead for Indian textiles industry. No wonder this industry is going to see huge investments in coming years. Experts of the industry are eyeing this country that has annual GDP rate 7.7% (World-Bank 2009), as the country with immense potential in textile and garment arena. "The Indian Textile Industry is at the threshold of Golden Era"- gushes Mr Sunil Khandelwal in a discourse on Indian textile industry dynamics, exclusively for News team at Fibre2fashion.com. Mr Sunil Khandelwal is CFO of Alok Industries Ltd – the textile pioneers with around rupees 15 bn annual turnover.

Mr Khandelwal supports his statement further by revealing some important facts and figures. He points up the research recently conducted by textile consultants-Technopak. He mentions that according to this report while the Global Textile Trade is expected to grow from USD 510 bn (2009) to USD 1000 bn (2020), the Indian Textile Industry during the same period would more than triple from the present size of USD 70 bn (around USD 47 billion domestic and USD 23 billion exports) in 2009 to USD 220 bn (around USD 140 billion domestic and USD 80 billion exports) by 2020, a growth rate of about 11% p.a.

The finance maven, out of his dexterity helps us understand the major growth drivers behind. He counted on few factors. They are –

- Supply from US and EU is declining gradually and shifting towards low cost Asian countries, China, India and rest of Asia expected to contribute considerably to textile supplies; - EU share is expected to come down further from its present share of about 30%;

- Overseas buyers are looking at de-risking their sourcing from China, whose market share in the world trade is around 31% (USD 157 bn). India on the other hand is at 4.5% (USD 23 bn), which can go up to 8% (USD 80 bn) by 2020;

- China is not able to generate surplus Textile capacity for exports as its domestic demand is growing tremendously, at about 15% p.a.;

- India is the only textile manufacturing country in the world with cotton surplus and it also has presence in the entire Textile Value Chain;

- Growing domestic Per Capita income, growth in population, improving demographics, increased penetration of organized retail, etc is likely to boost the consumption of textiles in the domestic market.