India has contributed to surge in cotton prices – Eurocoton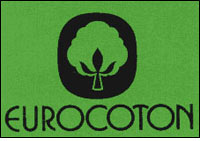 International textile lobby groups like the Europe-based Eurocoton and ITKIB, Mexico-based Canaintex and US-based National Council of Textile organizations (NCTO) had recently petitioned to their respective governments, against the move of the Indian government to ban or restrict cotton exports.

As is now well-known, cotton output in Pakistan and China and to an extent of the US too, are expected to decline substantially in this cotton season, which has led global cotton prices to touch historic high levels in recent months, and these organizations are blaming the Indian government for putting restrictions on cotton exports.

There are estimates of a record production of Indian cotton at 32.5 million bales (1 bale = 170 kg) in 2010-11 against the projected demand of 26.6 million bales. Against this, India has permitted export of 5.5 million bales in the current season, in order to ensure adequate stocks for its domestic textile industry.

These organizations have called the restrictions as anti-trade, which has caused turmoil in the global cotton markets and that India government has clearly broken WTO rules and must be held to account, as these restrictions have come at a time when global supply is tightening and demand is rising and in the process giving a impetus to cotton prices.

Speaking to fibre2fashion, Mr Haciot Benot, President of Eurocoton said, "We have namely two major concerns. One, the de facto ban of any raw cotton exports in excess of 5.5 million bales of cotton for the current crop year, and a pattern of inconsistent and sometimes contradictory statements over the past year that have caused uncertainty in world markets about the reliability regarding Indian exports of raw cotton.

"These two problems – a restriction on actual exports and a climate of uncertainty whether India is a reliable exporter has contributed to a surge in prices for European and other non-Indian textile producers while creating a subsidy for Indian textile producers and according to the National Cotton Council, Indian textile producers are getting a subsidy of 16 cents per pound, relative to the world price for cotton.

"India itself admits that it has taken these measures, at least in part, allegedly because of price issues. It is notable that the Indian textile industry has been pushing for restrictions since November 2009. This clearly indicates that the Indian government actions are primarily price-related and are designed to promote the Indian textile firm market position and have nothing to do with supply concerns.

"Also, Indian press reports indicate that the primary goal of the Indian government is price related. In addition, Indian stocks have been rising significantly as the Indian crop has expanded to record levels. Instead of releasing excess supply onto world markets, the Indian government has instead held it back, thus contributing to the run up in the world price for cotton.