YIWU H&G 2010 opens today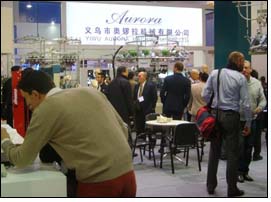 A showcase of the world's best hosiery-cum-seamless-underwear machinery, parts and accessories The 11th China (Yiwu) International Exhibition on Hosiery, Knitting, Dyeing & Finishing Machinery ("YIWU H&G 2010") opens today (Nov 24-26, 2010) at Yiwu International Expo Centre. The 4th China (Yiwu) International Exhibition on Narrow Fabric, Braiding & Garment Machinery is held concurrently.

The 3-day exhibition has attracted 130 quality exhibitors from 9 countries and regions including China, France, Germany, Hong Kong, Italy, Korea, Switzerland, Taiwan, Turkey which bring their latest and advanced machineries, equipments and technologies to the exhibition, innovating a grand gathering for knitting industry.

The organizers have invited many leading officers and representatives from various associations and organizations, including China Textile Commerce Association, Yiwu City People's Government, Hong Kong Productivity Council, China Textile Commerce Association China Underwear Committee, China Chamber of International Commerce Yiwu Chamber of Commerce, Yiwu City Hosiery Industry Association, Yiwu City Braiding Industry Association, Yiwu City Seamless Knitting Association, Yiwu City Zipper Industry Association, Yiwu City Garment Industry Association, Yiwu City Glove Industry Association and Pujiang County Knitting, Printing and Dyeing Industry Association, etc. to visit YIWU H&G 2010.

A Grand Textile Industry's Gathering of Local & Overseas Enterprises
Benefited from the global economic recovery, the China's textile industry has started to rebound gradually. However, due to the inflation of raw materials, increase of labour cost, the appreciation of RMB, etc., enterprises are still facing enormous pressure in the market. YIWU H&G has been regarded as the exhibition specializing in knitting machineries, especially on hosiery and seamless-underwear machineries; it catches global textile industry's attention and maximizes the business matching opportunities between upstream and downstream corporations. YIWU H&G not only brings plenty of information and business opportunities, but also offer a high quality interactive platform for the industry.

This year, the exhibiting area reaches 7,600 sqm with numerous world-famous brands exhibitors to participate, including Santoni (Italy), Lonati (with 60 years experience in hosiery), Cesare Colosio (high value-added hosiery manufacturer), BTSR (expert of yarn quality control), Fulgar (the largest processor of nylon yarn in Europe), LGL (leading company in intelligent weft feeder), Signal (expert of textile machinery electronic control), Heliot (French famous manufacturer for energy saving sock boarding machine), Singer Sewing, Yiwu Whole Set Sewing Equipment, Sing Chi Sewing Machine, Shanghai Yin Science and Technology, Zhejiang Rifa Textile Machinery Corporation, Zhenjiang Zhongbao, etc. Sophisticated products and machineries are being exhibited and highlighted in this grand exhibition.