NITMA flays Govt decision to stop export registration of cotton yarn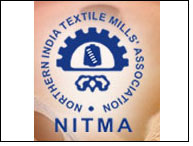 Northern India Textile Mills Association (NITMA) President, Shri Ashish Bagrodia has flayed the government's decision to stop registration of cotton yarn exports from 1st December 2010 after registrations have reached a figure of 720 mln kgs. In a press release, Shri Ashish Bagrodia said, "The entire spinning industry is shocked at such arbitrary decisions and policing actions taken by a government led by our Hon'ble Prime Minister, Shri Manmohan Singh who has always advocated free trade and is a leader of economic liberalization".

The Indian textile industry for many years has been the victim of various controls which hampered the growth of this industry and allowed China to overtake us. It took the government many years to remove these shackles and only thereafter major investments flowed into this industry making it internationally competitive.

The Indian Spinning industry has invested more than Rs, 1,00,000 crores in modernization and expansion in the last 10 years and is today amongst the most modern and efficient within the entire textile value chain and contributes almost 4 bln USD to the foreign exchange earnings of the country other than providing inclusive employment in the Indian hinterland. It appears we are once again going back to an era of government controls.

"The Indian spinning industry will loose its export customers to its competitors such as Pakistan, China, Indonesia and Bangladesh forever since it may not be possible to recover them once exports are resumed after April 2011. The reputation of our country as a reliable supplier has been dented", Shri Ashish Bagrodia added. Many mills which have invested in the manufacturing of specialty and value added yarns will have to close down since there is no market for such yarns domestically. A large number of spinning mills have huge export obligations under various schemes such as EPCG, Advance license, EOU, and SEZ schemes and they have nowhere to go.

The government has been swayed by the vociferous demands of the inefficient garment industry which has been complaining of high yarn prices in India but the fact of the matter is that Indian cotton yarn is almost 10 percent costlier to other garmenting countries such as China, Bangladesh, Cambodia, Vietnam, etc and still they are able to increase their garment exports but the garment exports from India are falling due to their inefficiencies.

There is enough availability of yarn for domestic consumption but higher prices of cotton yarn has been an issue mainly due to increase in raw cotton prices, which the government has been unable to control, and rather prematurely allowed exports of raw cotton when there was a huge shortage of the same within our country. On one hand raw cotton exports is being allowed and on the other hand cotton yarn exports is being curtailed. It appears by taking such decisions the government wants the Indian spinning industry to subsidize the garment industry.It is interesting to note that the same garment industry has not made any noises when synthetic yarn prices have also increased dramatically in the last two months due to similar reasons of increase in synthetic fibre prices.