Nanotech deal opens door to develop greener wool textiles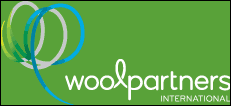 Wool Partners International subsidiary company Wools of New Zealand is working with a team of New Zealand scientists on a development programme for nanotechnology that enhances the design potential – and the environmental and technical performance – of wool textiles.

Wools of New Zealand has been granted rights to invest in commercialising technology developed by Professor Jim Johnston, Dr Kerstin Burridge, Dr Fern Kelly and Dr Aaron Small, in return for practical support provided over the past three years and ongoing market support. The terms of investment would be set through a separate agreement at the time this takes place.

Professor Johnston, with his team of co-inventors, has developed and patented a process in which pure gold or silver in nanoform are embedded in New Zealand wool, imparting a range of colourfast colours, functional and aesthetic benefits. A nanoparticle is one billionth of a metre, or one millionth of a millimetre, in diameter.

WPI Chief Executive Officer, Iain Abercrombie, says the company is delighted to take its working relationship with Professor Johnston and his team to the next level, where the potential for commercialisation comes more clearly into view.

"Wools of New Zealand has been working with Jim and his team to understand the commercial opportunities for this technology in carpets, and has just extended this to include other interior textile products. In return, we have secured first option to be involved in any commercial interest in the technology for strong wool in the field of interior textiles.

"We have also worked closely with international trade partners to create prototypes of products containing both gold and silver," Iain Abercrombie says. "We have identified companies active in the target markets that are ready to progress with production trials. Applications of this technology run from high-end carpets coloured with gold through to textiles for use in transportation, where the silver provides effective anti-microbial activity, and other specialised interior applications.

"WPI has a strong commitment to innovation, and to broadening the opportunities for New Zealand strong wool. Other projects include our work with New Zealand based design company The Formary to develop a sustainable upholstery fabric for Starbucks (WoJo), and the development of carpets using natural dyes derived from plant extracts."

Professor Johnston says the nanotechnology is based on the natural properties of the wool fibre and the precious metals used.

"Certain metals, like gold and silver, behave quite differently in the way they react with light when their particles are reduced to nano size. They scatter light in different colours, depending on the size of the nanoparticles. It means you can achieve colouring of textiles without using traditional (mostly synthetic) dyestuffs. This opens the door to development of greener textiles, for example, which are increasingly demanded by global consumers. Also, the technology links the high value and premier position of gold with the high quality of New Zealand wool for high value international markets.