Enhanced Resilio roll provides truly revolutionary squeezing power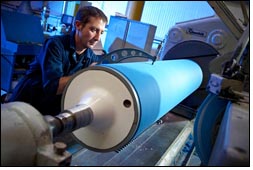 Energy costs for de-watering and drying are among the most expensive overheads facing textile wet-processing firms. So a system which can halve these costs – and pay for itself within two months – has the potential to make a massive impact on overall profitability.

And these benefits are available now, thanks to a revolutionary further breakthrough in de-watering roll technology by Richard Hough Ltd (RHL) has announced the results of a two-year development programme, which has dramatically improved the efficiency of its Resilio roll, to the point where the latest version achieves twice the de-watering percentage of the conventional hard rubber rolls widely used in the industry.

Detailed technical enhancements to the Resilio's dual-layer construction have produced amazing gains in performance, according to RHL managing director Anthony Ashton: "As we carried out laboratory trials on the improved roll configuration, the result was so incredible that it could only be described as a revolutionary step forward," he said. "With the new improvements, we were obtaining de-watering results that were double those of the traditional hard rubber roll. In layman's terms, we were now saving a cool 50% of our customers' energy costs!"

RHL, headquartered at Bolton, Lancashire, has a proud 200-year history of manufacturing de-watering rolls for the textile processing industry. The original Resilio roll concept, developed in 2008, was itself a major innovation, combining the best features of hard and soft elastomer coverings. The 'patent applied for' system is now installed in dozens of textile plants worldwide, where its de-watering claims are being justified daily under industrial conditions.

Before the invention of the Resilio, rubber-covered squeezing rolls had improved little over many years, apart from hardening of the elastomer cover from 85 to 97 on the Shore D scale of hardness between the 1970s and the 1990s, leading to a reduction in residual moisture of around 15%. Softer elastomer cover types had not proved successful for de-watering, as they caused nip widths to be increased, making it more difficult for the liquid to escape from the fabric. So the hard elastomer roll became the norm for de-watering and final squeeze nips prior to the dryers.

The Resilio changed everything, by combining the best features of hard and soft covering compounds to create a unique, dual-layer squeezing concept. A hard sub-layer acts as the narrow nip element while a soft top layer is pushed into the warp and weft interspaces of the fabric, where the water droplets tend to gather.

The result of applying this concept on the original Resilio roll provided "truly revolutionary squeezing power," Mr Ashton says, "with average improvements of 30-40% being obtained on a regular basis with both knitted and woven cotton and synthetic fabrics."

Translating this performance into savings for the user, RHL calculates that a typical, eight-compartment stenter frame will cost about €125,000 per year in energy for drying, so that savings of at least €30,000-40,000 per year are conservatively estimated for each processing line.