Caldeira adds Showroom 3 to its Heimtextil's booths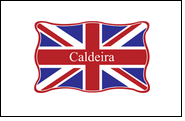 Caldeira, based in Liverpool, England will be exhibiting on two stands at Heimtextil based in Frankfurt, Germany. This is the seventh year that Caldeira has exhibited at the show and this year's stands will total 240 sq metres of space. The new look stands will be more open than in previous years with more entrances to welcome customers from each walkway. On display will be the biggest ever collection that Caldeira has presented at Heimtextil.

Heimtextil is the industry's first major marketing and ordering date of the year and highlights the latest innovations and consumer trends. It will take place from January 12 to 15 in 2011 in Messe Frankfurt, Germnay.

Caldeira's product range includes cushions, decorative pillows, throws, ready-made curtains, bean slabs, bean cubes and draught excluders. The company specialises in supplying some of the world's largest home textile retailers from their sales offices and factories in Liverpool, England, Hangzhou, China, and their sales office in New York City, USA.

Caldeira's European stand can be found in Hall 3.0 Stand E51 and will display products made in its UK factory using European fabrics. Caldeira China, known locally as Hao Sheng Textiles, will be located in Hall 6.2 Stand D50. The focus of the Caldeira China stand in 6.2, will be to display their high quality Chinese made products, many of which have been designed by the company's designers and customers worldwide. The booths will be staffed by members of Caldeira's UK, Chinese and US teams.

There will be a new addition to the stands this year named "Showroom 3" with ready to buy products and fabrics. Within Showroom 3 customers can cherry pick from available fabrics to create, cushions, bean bags, bean slabs for immediate delivery.

Roger Davies, National Sales Manager commented "Showroom 3 section of the stand will be a one stop shop for customers who need fabrics and cushions without long lead times. Caldeira has listened to its customers and tailored the showroom to offer a fast turnaround on products to help out those customers who need product to fill shelves with no restrictions on fabric minimums."

Caldeira will also launch its new Beatles range of world exclusively designed products. The company has been working with a supplier who has been left some exclusive pictures of the Beatles in a will. These exclusive pictures have now been transferred onto fabric. The Beatles photos were taken by the late Derek Cooper, a magazine photographer to the music industry.

Karen Donnelly, Marketing Manager is looking forward to the launch of the products at Heimtex "Caldeira will have exclusive 43cm/ 50cm cushions and a bed-runner featuring the fab four Beatles. The unseen photos were taken during official photo shoots and capture the fun-loving approach of the famous Liverpool band."

Visit Caldeira European operation in Hall 3.0 E51 & Caldeira China - Hao Sheng textiles in Hall 6.2Hall D50.