KPR Mills forays into compact yarn production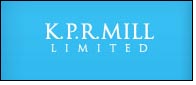 KPR Mills Ltd, one of the biggest vertically integrated apparel companies has not satiated its desire in expansion of backward integration facilities. It is now foraying in to manufacture of high value-added compact yarn, along with which, KPR is also modernizing and installing additional spindles by way of latest spinning machinery at its maiden spinning unit at Sathyamangalam, informed Mr P Natraj, MD, KPR Mills, in an exclusive interview to fibre2fashion.

KPR's journey into textiles began in the year 1984. In 1989, the group ventured into garment exports. Today KPR is a leading garment exporter as well is the largest vertically integrated apparel company, engaged in manufacturing and marketing readymade knitted garments, knitted fabrics and cotton yarn.

The company has state-of-the-art production facilities in Tamil Nadu at Sathyamangalam, Tirupur, Perundurai and Coimbatore with a total manufacturing capacity of 212,064 spindles to produce 54,000 MT of yarn per annum, 205 circular knitting machines to produce 21,000 MT of fabrics per annum and 63 million pieces of readymade knitted apparel per annum along with dyeing facility to process 23 MT of fabric per day. The company also has 40 wind mills with a total captive power generation capacity of 40 MW.

Speaking in favour of backward integration, Mr Natraj said, "The integrated manufacturing operations enables provision of optimal levels of quality and service to the customers in an effective and cost-efficient manner. Through vertical integration, one is well placed to realize the efficiencies of scale, quality control and better margin at each stage of the manufacturing process. Further, it enables better customization of products to the specifications of the customers and provides assurance to them that they will receive consistently high quality products

"The abolition of multi-fibre arrangements triggered the demand for textiles in the international market rapidly. The turnaround in developed economies after global slowdown and changing consumers spending patterns has added to the increasing demand for textile products. There is a huge shortage of yarn globally with capacities shrinking and acute power and labour shortages in countries having good quality spinning capacity.

"There is an urgent need to create additional capacity in India which still has surplus cotton & labour and a very good culture of high productivity and quality in yarn manufacture. It is well advised to encourage the growth of inherently efficient and internationally competitive sector viz., spinning, whose labour and productivity is better in India than the competitive countries, he concluded by saying.

Revealing expansion plans of his company, he said, "To meet the persisting demand, both in international and domestic markets and with the intention to expand in the high margin, high value-added yarn segment, we have invested Rs 3.1 billion to add 103,680 spindles to produce 'Compact Yarn' that has low hairiness levels & improved strength.