Chairman, NITRA graces 9th Convocation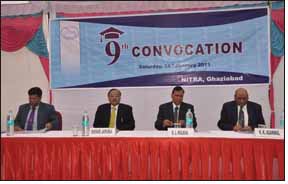 The 9th Convocation of NITRA - Northern India Textile Research Association for the academic year 2009-10 was held on Saturday, the 15th January 2011 at NITRA, Ghaziabad. Sh. Sh. Shishir Jaipuria, eminent industrialist and Chairman, NITRA graced the occasion. Also present in the occasion were eminent industrialists Sh. R. L. Nolkha, Dy. Chairman NITRA and Sh. K. K. Agarwal, Vice Chairman, NITRA. 191 students from 11 programs were awarded certificates and medals in this year's convocation. The Chairman also released seven latest technical books published by NITRA.

Sh. K. K. Agarwal, Vice Chairman, NITRA, in his welcome address opined that the impact of global demand recession observed in 2008-09 has faded out and Indian textiles industry is again back on the growth track. He mentioned that, NITRA's alumni strength at present is more than 1500 and they are well placed in the industry, both in India and abroad.

Apart from rich experience in training, another plus for NITRA is its close proximity to India's garment and apparel hubs of Delhi, NCR, Jaipur, Ludhiana and Panipat. This location advantage undoubtedly makes NITRA as the most ideal institute for youngsters to undergo training and start a career in textiles and apparel industry.

He mentioned that NITRA had also taken up the task of preparing quality technical publications and would release seven new books authored and compiled by NITRA scientists and faculty from Anna University, Chennai and Dayalbagh University, Agra.

Director NITRA Dr. J,V.Rao mentioned that today NITRA had set benchmarking standard in professional training and offered 12 industry oriented techno-management programs on regular, part-time and distance learning modes, covering the areas such as textile/garment manufacturing, textile/garment designing, merchandising, quality assurance, garment finishing and sewing machine operation & maintenance.

He informed that more than 100 renowned apparel and textiles exports companies had recruited NITRA alumnus in the past seven years. Apart from the regular students, the DLP students also excelled in their career after updating their knowledge from NITRA.

Dr. Rao expressed happiness that NITRA would be training 16,500 people in next five years under Integrated Skill Development Scheme launched by MoT in July 2010. Under this scheme, NITRA proposed to conduct 98 training programs, 64 for textiles and 34 for technical textiles sector. The programs would be conducted in NITRA head office at Ghaziabad and its seven power loom service centres. He also spoke about the "Centre of Excellence" set up at NITRA in collaboration with IIT, Delhi for carrying out R&D and training in protective textiles.

He informed that in the current year, NITRA was working on 5 projects in the areas of fusible interlinings, Flex fabric, IRR Fabric, Blackout Fabric and Nuclear Biochemical (NBC) fabrics besides the 4 research projects that were started last year. Further, NITRA had also submitted a detailed project on "Energy Water Carbon Accreditation program for textile supply chain- Design Phase" to MoT.