DuPont signs deal with Arvind for Nomex fire resistant brand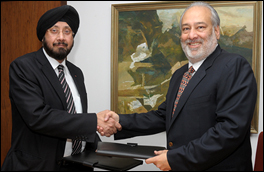 Wilmington, Delaware, US-based E. I. du Pont de Nemours and Company, popularly referred to as DuPont, and Ahmedabad, India-based textile manufacturer Arvind Limited, popularly referred to as Arvind, announce a strategic alliance to manufacture and market DuPont Nomex brand fiber based Flame Resistant (FR) fabrics and Industrial apparels in India, SriLanka, Bangladesh & Nepal.

Under the marketing and brand licensing agreement DuPont will supply DuPont Nomex brand fiber and provide technical support to Arvind to manufacture Nomex Flame Resistant (FR) fabrics.

This agreement will ensure local availability of authentic DuPont Nomex fabric in India and shorten delivery time to meet the needs of customers, giving a competitive edge to DuPont in the market.

Commenting on the agreement, Balvinder S Kalsi, President - South Asia, DuPont said, "DuPont is pursuing aggressive growth in emerging markets, including India. We have identified increased need for safety and security solutions as one of the global mega-trends that we will address through our focus on market driven local innovations and this agreement with Arvind is fully aligned with our growth strategy. I am confident this will help us serve our local customers better."

With the awareness on thermal protection increasing at a rapid rate in India, the alliance will also provide a strategic fit for Arvind to increase its presence in the fast growing safety clothing industry.

Sanjay Lalbhai, Chairman, Arvind Limited said," This move is part of a long term strategy for our advanced materials business. We have set up an advanced materials division which explores new technologies and innovative ideas in the field of technical textiles. We have developed a wide range of fire safety solutions by developing flame retardant and fire resistant fabrics for industrial applications. Our textile manufacturing competency along with the technical expertise from DuPont will have a very positive effect on the safety industry in India."

DuPont is a pioneer and a world leader in Safety & Protection applications especially in relation to fire safety. DuPont Nomex is a revolutionary heat and FR critical component in protective fabrics, garments, insulation and other high-performance applications. Fire-fighters and emergency personnel around the world have relied on FR turnout gear, EMS wear, station wear and accessories made with Nomex brand for over 40 years. Wherever there's a need for thermal protection, Nomex brand products have a solution. In its various forms, Nomex has an ideal balance of properties for use in flame resistant clothing, thermal insulations in transformers, motors and other electrical equipment.

"We are delighted to have Arvind as our partner. Their innovative capabilities and versatile manufacturing facilities make them our natural alliance partner in league with DuPont select few licensees all over the world. DuPont Nomex fabrics and garments will be marketed in India, SriLanka, Bangladesh & Nepal. With this seamless alliance both DuPont and Arvind will bring the best safety solution to the customers," said Vivek Sharma, Business Leader, South Asia, DuPont Protection Technologies.