Backward integration important for long term competitiveness - MD, SEL Group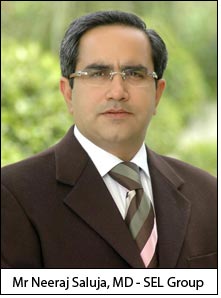 "Backward integration is extremely important for long term competitiveness of business, quality control, uninterrupted manufacturing and continuous in house product innovation. Businesses without proper backward integration always run the risk of facing avoidable challenges in terms of quality issues, higher cost and disruption in supply chain", said Mr Neeraj Saluja, Managing Director of the Ludhiana based vertically integrated textile and apparel producer - SEL Group.

The Ludhiana based SEL Group, under the mentorship of Chairman - Mr RS Saluja, has nurtured a dynamic business landscape. Mr Neeraj Saluja and Mr Dhiraj Saluja have carried forward and added to the legacy of Mr RS Saluja, with their formidable leadership. With their discerning vision and clairvoyance, they are steering the group through the most significant and arduous phase in its history.

The Group has announced a capital expenditure of US $400 million to set up an integrated state of the art yarn manufacturing facility with 400,000 spindles in Madhya Pradesh and will be the largest yarn manufacturing facility in a single location. It has the potential of providing direct employment to 4,000 and indirect employment to 20,000 people. A few days back it announced setting up of a new 210,000 spindles spinning facility in Punjab, once again, the largest single location spinning mill in Punjab.

SEL Group began its journey in 1969 with manufacturing of ready-made garments. From humble beginnings, SEL has graduated in to $300 million integrated textile group with a targeted capacity of one million spindles. An original apparel manufacturing company which has backward integrated into yarn manufacturing that too on such a big scale is what fascinated us at fibre2fashion.

Enlightening fibre2fashion further, about his views on backward integration, Mr Saluja said, "Backward integration also helps in generating better confidence among customers as most customers prefer to work with suppliers who produce most of the vital inputs in-house. This in turn, leads to long term sustainability of customer-supplier relationships. SEL has complete backward integration in terms of having own yarn production of most products required by the subsequent processes in the garments and Terry Towel chain. As a long term thinking, we believe in highest level of backward integration to have better confidence of customers, strict quality control which is so vital for customer satisfaction and lower cost of production."

Informing about their vision behind growing multi-fold in a span of few years, he said, "The Indian textile industry has a long term bright future as the whole world is looking up to India as a strong supply source. Besides, there is potential of substantial increase in the domestic demand on the strength of two strong drivers in terms of sustained high level of economic growthwhich the country has been going through and hopes to be in the same mode for atleast another decade, helped by the ever growing large population.