We are back on the growth track - CEO of Uster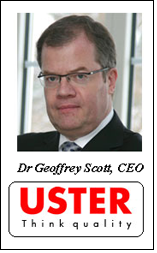 Uster Technologies AG, the leading high technology instrument manufacturer of products for quality measurement and certification for the textile industry, announced sales of CHF 132.8 million in FY 2010, an increase of 31.8% compared to the prior year figure of CHF 100.8 million. Growth was driven by significantly improved overall economic conditions in all major markets and the recovery in textile machinery investments spearheaded by the Asian markets, most notably China.

The Group further strengthened its strong market position and delivered impressive margins. EBITA reached CHF 34.6 million (2009: CHF 22.7 million) improving the margin to 26.0%. The Group's net result amounted to CHF 20.8 million (2009: CHF 1.2 million). It was enhanced by one-off effects arising from the resolution of tax issues from earlier years. In 2010, Uster Technologies Ltd further decreased its net debt to CHF 76.5 million thereby demonstrating the Company's strong cash generation power.

In 2010, the textile industry experienced a sharp recovery. At the same time raw material prices, especially cotton, and yarn prices increased compared to their levels at the beginning of the year. The result was further emphasis on the importance of quality and enhanced interest in measuring and testing systems. This positive development was supported by an improvement in credit and trade financing terms for the Group's customers in all major markets. China continued to be the leader in the textile industry whilst the mid-Asian markets including India, Turkey, Bangladesh and Pakistan recovered from the economic instability of previous years.

The cash position was improved to CHF 21.0 million with an EBITA / operating cash flow conversion of 123.2%. The cash flow from operating activities amounted to CHF 42.7 million, mainly to invest in new production equipment and to be used to reduce debt to sustainable levels. The Group's strong market position allows Uster Technologies Ltd to invoice in Swiss Francs for the majority of its business reducing exchange rate impacts to less than 1% of gross sales.

At the General Meeting in March, the Board of Directors will propose a dividend of CHF 1.20 per share.

Dr Geoffrey Scott, CEO of Uster Technologies Ltd, comments: "We are back on the growth track. Our organization is in good shape and business momentum is returning to levels last seen during our record year 2007. In 2010, the Uster Group continued to expand its sales and service network, particularly in the fast growing Chinese and Indian markets. In parallel, Uster Technologies Ltd restored all R&D projects back to full speed in order to best profit from the expected market upswing."

In 2010, Uster Technologies Ltd made headlines with the launch of new products. First, the Group introduced a new USTER ZWEIGLE laboratory system that allows yarn hairiness to be measured with much better accuracy, reproducibility and speed. Second, Uster Technologies Ltd launched its ground-breaking third generation of USTER QUANTUM clearer. Third, a new generation of USTER SLIVERGUARD was introduced to the Chinese market. It addresses the needs of the local manufacturers and expands Uster Technologies Ltd's foothold in the spinning preparation area. In addition, the Group continued to work on technical synergies arising from the strategic collaboration with Toyota Industries Corporation, a partnership which is expected to yield further growth potential.