Seminar on 'Evolving Trends in Management for the Textile Industry'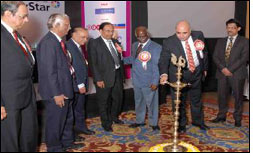 The Textile Association (India), Mumbai Unit organized the Seminar "Evolving Trends in Management for the Textile Industry" on 18th February 2011 at Hotel InterContinental the Lalit, Mumbai.

Mr. C. Bose, President, TAI, Mumbai Unit welcomed the Hon. Chief Guest, Mr. Hrishikesh Mafatlal, Vice Chairman & Chief Executive, Arvind Mafatlal Group of Companies, Chief Guest Mr. Man Mohan, Chief Operating Officer, Polyester Sector, Reliance Industries Ltd., Guests Mr. Subodh P. Sapra & Mr. Manish Kiri, Speakers, Press, Media and delegates.

Mr. V. C. Gupte Chairman, TAI, Mumbai Unit and Convener of the seminar gave the brief of the event. He said that The Indian Textile Industry has come a long way from a traditional family managed business to a professionally managed business. He said that from the traditional merchant oriented business to specific & consumer oriented business has forced the textile industry to change its face. Every segment or department of professionally managed textile industry is now handled by skilled workers and professionally specialized managers. He added that every role requires a specialist and everyone in the value chain requires a totally commercial thinking. The working style of old textile culture has undergone drastic changes because of rigid quality norms coupled with strict delivery schedules. Commercial negotiations and face-to-face discussions with the export buyers, forced the textile managers to be professional, skillful and techno-commercially sound.

Mr. Hrishikesh A. Mafatlal, Vice Chairman & Chief Executive, Arvind Mafatlal Group of Companies while taking historic perspective of the textile business said that in the old era the business was operations oriented and was handled by trade wholesalers. Overall it was sellers market with lesser sensitivity in quality and services. He said during that time there was more loyalty to individual than the institution. With the globalization in 1990 the transformation of textile business took place from a seller market to a buyer market. In this new era introduced rigid quality norms, strict delivery schedules, supply chain management, ecological standards and the most important competitive pricing.

Mr. Mafatlal said that with growing size and complexity of businesses family management did not have the required skills and hence the professional managers were introduced. He said that the textile business becoming more knowledge based, people from other industries started entering in to this field. This was the time when HRM was first time introduced in the textile industry. These changes like selective hiring, extensive training, sharing information, employment security and reduction of hierarchy levels brought the professionalism in the industry.

Mr. Mafatlal said that market and consumer oriented approach and leadership changing from authoritative to delegative and participative levels were brought to the industry. He said that the changes in last two decades in financial structuring of the companies raised the capital and hence more public limited companies were established. Mr. Mafatlal said that these are the enduring qualities for any organization – large or small – and often define success over the long run.