Khadi textile fabrics have lowest carbon footprint – Designer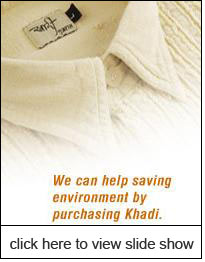 "The biggest advantage of wearing khadi textiles is that it carries the lowest carbon footprint among all textiles, which makes it a sustainable fabric", said a noted textile designer.

Ahmedabad is playing host to a month long 'Khadi Utsav' in which more than 273 stalls have been set up, displaying khadi products from across various states of India.

The fair which began on March 6 will run till April 6, 2011. It will also feature a fashion show on March 18, where models will showcase khadi clothing designed by top-notch Ahmedabad based designers.

'Brand Khadi' a theme pavilion, one of the highlights of the trade fair, explains the origin of the khadi, including Mahatma Gandhi's ideology woven around khadi.

Khadi textiles are normally made from 100 percent cotton, but nowadays cotton/polyester blended khadi fabrics and clothing are also available.

Khadi textiles apart from being eco-friendly are sustainable and also harmless to the skin. Production of one meter khadi fabric consumes just three litres water against 55 litres consumed in a conventional textile mill.

Yesterday, the organizers had organised a buyer-seller meet in which most of the khadi cooperatives from Gujarat as well as buyers, which included exporters were present.

According to estimates provided by Mr Punamchand Parmar (IAS) and Member Secretary – Gujarat State Khadi and Village Industries Board, they had targeted a turnover of Rs 40 million from the Utsav, but now hope to cross Rs 50 million, looking at the steady stream of buyers.

Mr Vadibhai Patel, Chairman - Khadi Gramudhyog Board said, "Our efforts are towards getting the younger generation interested in Khadi textile products. We are also trying to modernize the spinning charkha as well as the handlooms on which khadi textiles are produced".

Speaking to Fibre2fashion, Mr Punamchand Parmar informed, "Gujarat government provides rebate to consumers for a period of 108 days in a year. There is also market development assistance from Government of India. Apart from which, the Khadi Gramudhyog Board organises Khadi trade fairs across the year in various towns and cities of Gujarat.

"Gujarat gives 65 percent subsidy for purchase and repair of khadi production machinery, apart from which the Board provides spinning and weaving assistance. There is also an artisan welfare fund, modernization fund and life insurance coverage for Khadi workers", he added by saying.

When asked as to why khadi fabrics are expensive, he replied by saying that, "Since khadi products are spun by hand and also woven on handlooms, the labour cost is very high, due to which cost of khadi fabrics is high. However, the government provides rebate to consumers to make khadi affordable".

However Mr AD Choudhary, State Director - Khadi and Village Industries Commission (KVIC) had a different take on the issue of high prices of khadi fabrics and clothing.