Researchers develop hospital textiles to kill MRSA superbug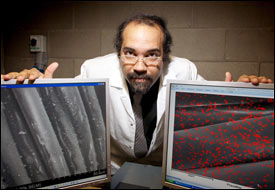 A European Research Team co-ordinated by leading Irish Research Institute, MSSI at the University of Limerick have recently (18th March) announced the development of textiles which will kill the MRSA (Methicillin Resistant Staphylococcus Aureus) superbug. The BioElectricSurface Research Team has used nanomaterials on textiles used in hospital drapes, bed linens and upholstery. Nanomaterials, which are a thousand times smaller than a human hair, are known to possess extra-ordinary properties that the team has harnessed to develop this technology to fight MRSA.

The MRSA bug is one of the major causes of hospital-acquired infections. In June 2007, the European Centre for Disease Prevention (ECDC) identified anti-biotic resistant micro-organisms as the most important infectious disease threat in Europe. One in 10 patients entering a European hospital can expect to catch an infection caused by drug-resistant microbes. Every year, around 3 million people in the EU catch a healthcare-associated infection, resulting in approximately 50,000 deaths.

Within the BioElectricSurface project, scientists and engineers from the University of Limerick, Ireland, Wroclaw University of Technology, Poland, Wroclaw Medical University, Poland and Comenius University, Slovakia have been working on developing this technology since 2008. They have embedded both commercial and custom-made nanoparticles into textiles through a patent-pending process that is effective against MRSA and other superbugs. The patent pending process ensures the nanoparticles adhere tightly to the textile which is an essential feature in commercialisation as it minimises "free" or "loose" nanoparticles.

Coordinator of this research, Dr. Syed Tofail of the Materials and Surface Science Institute, University of Limerick, expressed his excitement in the development of this new method as the social impact and commercial potential for such technology are very high. The US and European market size for medical textiles was estimated to be over $7 billion and current sales only meet one third of the market potential. 'Our technology will be used to produce practical, economical and effective products for this huge potential market,' he adds.

According to Professor Noel O'Dowd, Director of the Materials and Surface Science Institute, "This is an excellent example of translational research where fundamental studies have been successfully transformed into a practical application. The use of MSSI's state-of-the-art facilities and equipment has been pivotal to such successes".

Dr. Ewa Dworniczek, a microbiologist from the Wroclaw Medical University, Poland and a member of the BioElectricSurface team, notes 'most textiles used in non-surgical environments are conventional, which partly gives rise to the spread of infectious diseases even among patients who go to hospital for non-surgical care'. These garments can pose a public health risk due to the inability of current hospital laundries to annihilate bacteria that have grown antibiotic resistant in the hospital environment.