Williams to produce ethane/ethylene for Nova Chemicals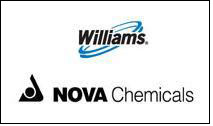 Williams announced that it has signed a long-term agreement to produce up to 17,000 barrels per day (bpd) of ethane and ethylene for NOVA Chemicals Corporation in Alberta, Canada.

Williams plans to invest CA$311 million to expand its two primary facilities in Alberta to support the new agreement. The expansions, which are expected to begin operating in first-quarter 2013, will allow the company to produce ethane and ethylene from its operations that process off-gas from the Alberta oil sands.

Fort McMurray, Redwater Facilities to be Expanded

The expansions involve modifying and upgrading two facilities. Williams will modify its oil sands off-gas extraction plant near Fort McMurray, Alberta, and construct a de-ethanizer at its Redwater natural gas liquids (NGL)/olefins fractionation facility near Edmonton, Alberta.

The upgrades at Fort McMurray will allow Williams to include ethane and ethylene in the NGL/olefins mixture that the company extracts from the off-gas and delivers to Redwater for fractionation.

The new de-ethanizer at Redwater will then enable Williams to initially produce approximately 10,000 bpd of an ethane/ethylene mix. This will add to its current production of approximately 14,000 bpd of a heavier NGL/olefins mixture that includes propane, propylene, butane, butylenes and condensate. Future expansions are expected to further increase ethane/ethylene production.

Under the terms of the new agreement, Williams is delivering the ethane/ethylene mix produced at Redwater into the Joffre Feedstock Pipeline (JFP). NOVA Chemicals is delivering the product via JFP into its Joffre facilities.

"These expansions will add incremental ethane supplies in Alberta, which are high-demand products for the petrochemical industry in Canada," said Rory Miller, president of Williams' midstream business. "It's a significant growth opportunity for our Canadian midstream business, as we're uniquely positioned as the only company with off-gas experience and facilities in the region.

"The new operations will also further reduce greenhouse gas and sulphur dioxide emissions from the oil sands operations," Miller said.

The Government of Alberta recently modified the Incremental Ethane Extraction Program to provide incentives for the extraction of ethane from the oil sands in order to bring new supplies of secure, long-term ethane feedstock to Alberta's petrochemical industry.

"I'm pleased to see that Williams is the first of what I believe will be many companies to benefit from the recent changes to our ethane policy," said Alberta Energy Minister Ron Liepert. "The value-added industry in the province is important, allowing Albertans to get the most out of the provinces resources – whether in investment capital, exported products or jobs."

The expenditures associated with these expansions were included in previous capital expenditure guidance, which was issued on Feb. 17.