Colombia-Peru-EU trade deal offer some cheer to textile industry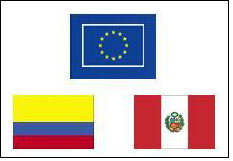 The European Commission has finalised the legal review of the Trade Agreement with Colombia and Peru. Once endorsed, this agreement would open up markets on both sides and increase the stability of this trade relationship that was worth €16 billion in bilateral trade in goods in 2010. The agreement includes far-reaching measures on the protection of human rights and the rule of law, as well as commitments to effectively implement international conventions on labour rights and environmental protection. The key elements of this agreement are outlined in this Memo.

Substantially improved market access for EU exports to Colombia and Peru

Tariff elimination

The recently initialled Trade Agreement between the EU, Colombia and Peru establishes the conditions for EU economic operators to take full advantage of the opportunities and the emerging complementarities between our respective economies. Over the course of its implementation, the Agreement will fully relieve EU exporters of industrial and fisheries products to Peru and Colombia from paying customs duties. At the latest 10 years after its entry into force, EU exporters of these products will be saving at least €250 million annually in tariffs to these two countries. After a gradual liberalisation over a slightly longer period (up to 17 years) an additional €22 million will be saved annually on exports of agricultural and processed agricultural products, bringing the total benefit for the EU export sector at the end of the transition period to more than 270 million a year.

This means concrete gains for specific sectors that are already exporting to the region as well as new opportunities for those who are still out of those markets. For instance, exports in the automotive and car parts sector will be relieved of over €33 million in tariffs. EU chemicals producers that export to Peru and Colombia will save more than €16 million on duties each year. The textiles industry will see significant savings of over €60 million annually. The telecoms equipment industry alone will save €18 million annually, not to mention the basis it creates to support the development of an EU telecommunications services industry in the region. Finally, pharmaceuticals products will be relieved of the current €16 million in duties that are paid annually.

Addressing other obstacles to trade in goods

Tariff elimination is meaningless if other technical or procedural obstacles to trade remain to hamper EU exports. The proposed Trade Agreement with Colombia and Peru addresses these matters beyond existing commitments in the WTO through systemic mechanisms but also in a very concrete and targeted way.

Systemically, the Parties will cooperate on market surveillance and will improve transparency by enhancing communication and cooperation in the area of technical regulations, standards and conformity assessment. Concretely this means extended deadlines for comments to draft technical regulations as well as an obligation to make publicly available through official websites both the comments received and the final regulations adopted.