New Sleep System that eliminates dust mites, allergens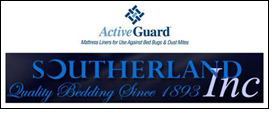 Southerland Inc and Allergy Technologies LLC, maker of ActiveGuard Mattress Liners, have partnered to develop and introduce the Southerland Total Protection Sleep System, the first mattress and foundation system to effectively eliminate bed bugs, dust mites and their allergens. Available in late spring, Southerland's patent-pending Total Protection Sleep System uses the proprietary ActiveGuard technology to actively kill bed bugs and dust mites upon contact, so protection and peace-of-mind are built directly into the mattress and foundation.

Southerland's new "Total Protection Sleep System" is the first mattress and box spring foundation system in the country to proactively address the bed bug and dust mite problem. These new products, available as a premium upgrade through Southerland contract sales and retail stores, are made from the same fabric used in ActiveGuard, the only EPA-registered and proven effective bedding product that will not only kill new bed bug infestations, but will continue to provide protection beyond the typical bed bug life cycle.

"Bed bugs and dust mites pose serious concerns and health issues, and our increasingly mobile lifestyles have made the threat of infestation even greater than ever," said David Corbin, president of Southerland. "The Southerland Total Protection Sleep System is one of the most proactive and effective steps consumers can take to conveniently prevent the infestation of bed bugs or dust mites in their bedding."

"Never before has there been a sleep system that offers the peace of mind like Total Protection," said Gus Carey, founder of Allergy Technologies, home of ActiveGuard. "Southerland has taken the power of ActiveGuard, along with years of our testing, and developed a consumer bedding product that should be welcomed with open arms, especially with the current state of bed bugs in our country." ActiveGuard has been extensively tested on a variety of bed bug strains by research entomologists, and is one of the few bed bug products with both published lab and field data. ActiveGuard is a patented product of Allergy Technologies LLC.

Southerland will offer the Total Protection Sleep System as an option on its upper-end mattresses and foundations. The Total Protection line is available for sale to hotels, universities and apartments through Southerland's contract division and will be available as a premium option at retail stores in late Spring 2011.

"The option to select a Total Protection Sleep System will allow consumers to choose the quality Southerland bedding solution that's right for them," said Corbin. "Total Protection mattresses and foundations provide a proactive and effective way to continuously eliminate bed bugs, delivering a new and unparalleled level of protection against bed bugs, dust mites and their allergens, which may be particularly appealing to consumers with asthma, eczema or respiratory allergies."

Southerland's Total Protection Sleep System does not involve any airborne sprays or powders, and offers continuous protection without the need for maintenance, making them extremely convenient. The Southerland Total Protection Sleep System with ActiveGuard fabric is soft, breathable and odorless, providing for a comfortable and restful sleep.