'Sustainability – Guaranteed by Wool' - theme of 80th IWTO Congress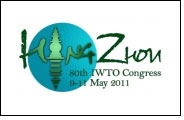 The International Wool Textile Organisation (IWTO) is organising its 80th Congress in China's ancient city of Hangzhou on May 09-11, 2011. The IWTO Congress is an annual meeting point for the whole wool industry covering the wool demand chain, from wool growers to retailers. Being a natural, renewable and biodegradable fibre, sustainability is wool's greatest asset with high importance in today's textile industry.

Therefore this year's congress runs under the theme "Sustainability – Guaranteed by Wool" continuing further with the wool industry's strategy.

For the third time the IWTO Congress is hosted in the People's Republic of China, emphasizing the importance the country plays for the wool industry in relation to the wool manufacturing process as well as a consumer market. With its special combination of ancient culture and beautiful landscapes as well as being an important wool and textile industry hub, Hangzhou is an ideal conference location.

IWTO is the international body representing the interests of the world's wool-textile trade and industry. As such, its membership covers the woolgrowers, traders, primary processors, spinners and weavers of wool and allied fibres in its member-countries, as well as all kind of organisations related to wool products and the wool business in general.

It provides for them a forum for discussion of problems of joint concern and acts as their spokesman with all those bodies and authorities towards whom a common approach is deemed necessary.