EUPEA puts up areas of concern before Textile Secretary (GOI)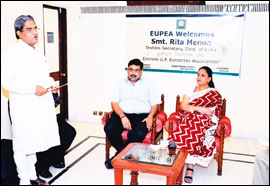 Eastern U P Exporters Association (EUPEA), recent week ago, organized a meeting at Hotel Taj in UP, with Mrs Rita Menon -IAS, Textiles Secretary (Government Of India) who visited to look into the areas of concern for Varanasi textile sector.

"Varanasi textile industry makes vital contribution of above 30% towards total production of the nation. However since last six decades the exports from the region is only 2-3%," worries Mr Narendra Kapoor raising his brows for sector's minimal stake in exports while sharing his views exclusively with Fibre2fashion team.

Mr Kapoor, the past president of EUPEA, has been the convener for the meeting. He further informs that when total exports was of Rs 100cr, the Varanasi share was Rs 3cr, and now the exports is about Rs 3000cr, but still the share is in between Rs 80-85cr only in spite of Varanasi being one of the biggest and oldest textile center of the world.

"In order to drive attention to such other concerns, and request increased efforts in welfare of sector in the region, we have organized this dialogue with Textile Secretary of India," Mr Kapoor expresses the rationale.

Mr Navin Kapoor, newly elected President EUPEA, welcomed the chief guest -Mrs Menon, and Mr Narendra Kapoor briefed her some demands as under:

-To make HINDTEX textiles fair organized by EUPEA in Varanasi, regular.

-To make an International Textiles Park (like Pragati Maidan) in Varanasi.

-To help with necessary policies to augment Varanasi textile export share at least 13% from present 3%.

-To depute International textiles designer to visit Varanasi through NIFT in order to educate industry to produce product of international quality in design and colors.

-To upgrade Weaver Service Center (Varanasi) with a view to educate weavers to produce quality product that too ONTIME.

-To sanction more funds to WSC.

-To abolish EXCISE DUTY imposed on CARPETS (Former President Mr Ajeet Shankar also presented a report on it)

-To continue appreciated approach like forming a SILKPOLICY COMMITTEE that currently includes four members from EUPEA. Such more efforts are requested to nominate EUPEA representative in other bodies of textile ministry: Central Silk Board, All India Handloom Board, Export Promotion Councils related to TEXTILES, Textile Committee and other boards.

-To instruct all the textiles related bodies to share all the information with EUPEA regularly.

-To instruct all textiles related councils to organize one export promotion workshop every year In VARANASI.

-Director General of Foreign Trade (DGFT) given EUPEA the permission to issue Certificate Of Origin (C.O.) for last so many years but withdrawn it again. Kind restoration of the permission to issue C.O. is sought.

EUPEA has also requested Mrs Menon to inaugurate HINDTEX-2011 to be held in October this year.