'leitmotif' for Italian machinery exhibitors warming for ITMA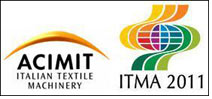 The world's premiere textile machinery trade fair, to be held in Barcelona from the 22nd to 29th of September 2011, will include some 300 Italian exhibitors, making the Italian presence the most numerous among exhibiting countries in Spain.

ITMA, the textile machinery industry's most important global exhibition, is in fact just a few months away. This year's European edition is slated to be held in Barcelona from September 22 - 29. As is usual, Italy will be well represented in Spain with some 300 machinery manufacturers who have thus far confirmed their participation at the ITMA exhibit, ranking Italy as the main Country in terms of number of exhibiting manufacturers and surface area occupied (in both cases, Italian manufacturers represent roughly one quarter of the total).

This 16th edition of ITMA will be held in a year that promises to be characterized by a continuation of the recovery under way for the entire global textile machinery industry. Figures already pointed to a recovery in 2010, following a two-year period of decline. In Italy last year, according to statistics compiled by ACIMIT, the Association of Italian Textile Machinery Manufacturers, production rose 18%, reaching 2.3 billion euros; exports, which represent roughly 80% of total revenues, increased 19%, amounting to around 1.8 billion euros. 2010 also recorded a recovery for Italy's domestic market, where demand for textile machinery hit nearly one billion euros (+27% over 2009).

"The upcoming edition of ITMA - stated Sandro Salmoiraghi, president of ACIMIT - will confirm the primary role of Italian manufacturers in the sector, above all for their highly innovative contribution in technology, and the attention our machinery manufacturers place on issues that have the greatest impact for the entire textile industry."

The leitmotif for Italian machinery exhibitors will be sustainability and eco-efficiency, a theme considered by ACIMIT to be of vital importance for the future of the textile machinery industry. In this sense, the Association's recently created "Sustainable Technologies" project aims to promote awareness among its associated members on the sustainability of technology solutions proposed to their customers, through a distinctive green label in which manufacturers declare their adherence to a production system that recognizes and operates according to eco/energy sustainable principles, subjecting their machinery products to a series of self-certification tests.

Sustainable technologies are also at the core of the slogan for ACIMIT's promotional campaign, recently launched together with Italian Trade Commision and the Ministry for Economic Development, with a one-page advertisement that will appear in some of the industry's most prominent trade magazines.

Emphasis on innovation, which has always distinguished ACIMIT and its associated members, is also well embodied in the association's close relationship with Universities and research institutes. At ITMA Barcelona, this partnership will materialize with the presence of the following organizations exhibiting in the Research & Education Pavilion: CENTROCOT, CITTA' STUDI DI BIELLA, D'APPOLONIA, POLITECNICO DI MILANO, POLITECNICO DI TORINO, TECNOTESSILE and UNIVERSITA' DI BERGAMO.