Polyprint to launch four textile printers at FESPA Fabric, Germany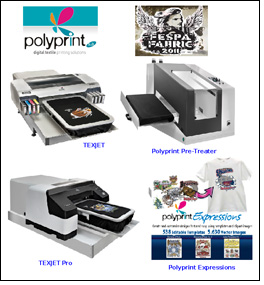 Polyprint is specialized in direct to garment printing technology and will present at Fespa Fabric the new product line of printers and accessories.

FESPA Fabric 2011 will take place in Hamburg, Germany at the Hamburg Messe across three days, 24-26 May 2011.

Presentation:
1. TEXJET Direct To Garment printer (improved version 2011) Polyprint's best seller is now equipped with advanced RIP features for white ink management when printing on dark t-shirts like highlight white, one pass CMYK & White and many more.

2. New Polyprint Pre-Treater Pre-treating dark t-shirts becomes easy and fast with the Polyprint Pre-Treater which utilizes high quality spraying nozzles for fine and uniform spraying and a closed spraying booth to keep the room clean.

3. New TEXJET Pro Direct To Garment printer (Preview / Available in the market from September 2011) - Incorporates the latest generation of ink jet piezo print head technology offering speed and versatility

• 10 ink channels / 360 nozzles per channel
• Double printing speed compared to previous generation

4. New Polyprint Expressions software Instantly create and customize designs for printing using hundreds of templates and thousands of images. Replacing colors and artwork, adding text, visualizing the final look of the design on the t-shirt and many more features at your fingertips.

POLYPRINT S.A. is a family run business specialized in solutions for Digital Textile Printing. Based in Thessaloniki, Greece, an area with long history in the field of textile printing, home to numerous t-shirt printing companies, most of them experts in high fashion t-shirt printing.

POLYPRINT S.A.