New developments in monofilament market through innovations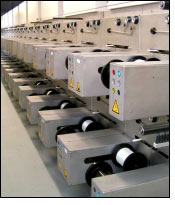 Reimotec, the expert for high performance extrusion lines for the production of monofilaments and strapping tapes presents its complete programme at the Techtextil trade fair in Frankfurt May 24 - 26, 2011, Hall 3 - Stand F 25.

Reimotec as the world's leading manufacturer of monofilament lines has set itself the target to give the market new impetus through new and further developments.

High-speed monofilament lines

High-speed technology is gaining increased importance, particularly in the field of high-quality filaments in a diameter range of up to 0.40 mm.

Reimotec, the leading supplier of the complete range of these types of lines, impresses with segmentally heated specific spin heads of own development as well as diameter and slub control systems plus its automatic high-speed winder.

The high-speed winder enables a speed of 500 m/min to be obtained when winding monofilaments from, e.g. nylon and polyester, with 0.06 to 0.4 mm in diameter. However, the company is already targeting at lines with an installed speed of up to 900 m/min. These will allow to significantly increase the output capacity and thus reduce the customers' production costs.

The further developed machine components installed in several production lines at customers in the USA and Europe have proven their series maturity. They are mainly used in the production of monofilaments for the paper forming industry.

Improved tolerances, time-saving reel changes and an optimized and safe operation of the complete line up to continuous production monitoring can thus be obtained.

Monofilaments for artificial grass

The market for artificial grass for sports applications and gardening and landscaping has continually grown worldwide.

High-performance monofilament lines of Reimotec with an output of up to 500 kg/h have significantly contributed to replace tapes by monofilaments used in artificial grass production.

The direct two-colour extrusion of artificial grass filaments has become well accepted in the market thanks to specifically developed spin heads. They form the basis of this technology in which two colours are simultaneously fed using separate extruders.

Sophisticated die geometries designed to fulfill the specific demands of the customer allow him to produce "his artificial grass filament" in the desired shape. 3D CAD systems are used to develop these designs - often jointly with the customer - to ensure the most exacting tolerances.

Reimotec's portfolio also includes downstream equipment such as rewinding, texturizing and twisting machines so that the company as a system supplier has a decisive influence on the quality of the finished products.

BiCo and TriCo technology

In the field of multifilaments the use of BiCo technology is almost standard. This technology has not been enforced in the field of monofilaments yet.