NY futures move sharply higher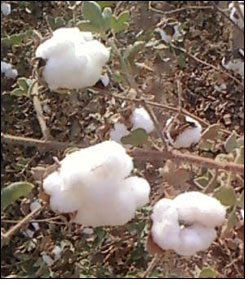 NY futures moved sharply higher this week, with July rallying 1321 points to close at 164.24 cents, while December gained 1266 points to close at 139.23 cents.

Memorial Day weekend has come and gone without bringing any significant relief to the drought-stricken areas of West Texas. Apart from a few isolated thunderstorms the region has remained mostly dry and the 7-day forecast doesn't look too promising either. With no rain in sight and insurance deadlines approaching, many dryland acres will not get planted this season, but it is not just dryland that has traders worried. Above average temperatures accompanied by strong and persistent wind have affected irrigated fields as well, although it is too early to assess the impact.

Growers in the Mid-South and Southeast had to contend with an array of problems as well, as some areas received way too much water, while others didn't get nearly enough, plus there were issues with insects and damage from strong wind and hail. Overall the US crop is off to a rocky start and production expectations will therefore have to be adjusted lower. It is difficult to estimate where exactly the US crop stands, because there is still time to rectify some of the problems, but unless we see an immediate improvement we are afraid that the US crop won't yield much more than 16.5 million bales.

The outlook for a smaller US crop will have implications on the export front. Unlike in previous years, the US has already committed around 5.8 million statistical bales for export next season, which compares to just 1.4 million bales of forward sales a year ago. Combined with the 3.8 million bales in domestic mill use, the total number of bales owed is therefore approaching the ten million mark or roughly 60% of potential production.

This means that shippers will be forced to step on the breaks in regards to additional sales, until the quantity and quality of the coming crop are known. As a result US export sales are likely to 'disappoint' over the next few months, but that will be mainly due to a lack of available offers rather than a lack of willing buyers.

Other origins will have to pick up the slack, but many of them don't have the same logistical capability as the US. While the US is able to ship 400'000 to 500'000 bales in a week, movement out of the CIS, India and other potential exporters tends to be a lot slower and cumbersome. Therefore, mills that have yet to cover third and fourth quarter requirements would be well advised not to wait too long before doing so.

The big de-certification of nearly 143'000 bales reduces the certified stock to just 52'035 bales, its lowest level since November 19 last year. This is likely to make many of the remaining 63'431 shorts in July quite nervous, especially since new crop doesn't look that great at the moment. Merchants who own current crop inventory may want to hold on to it as 'insurance' against a potential shortage of new crop high grades.