Prime Minister launches the most advanced PX/PTA complex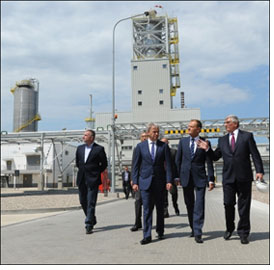 PKN ORLEN has launched Europe's most advanced petrochemical complex for paraxylene and terephthalic acid production (PX/PTA). Present at the event marking the launch was Polish Prime Minister Donald Tusk.

The new complex, which is Poland's first and the most efficient complex of its kind in Europe, comprises facilities located at PKN ORLEN's plant in Plock (paraxylene production) and in Wloclawek (terephthalic acid production). The project was completed in a record short time of three years and cost more than EUR 1bn.

As the only company from our part of Europe, ORLEN has joined the prestigious group of producers delivering high quality PTA – the key feedstock in the production of PET (polyethylene terephthalate), used to make packaging and polyester fibers. Demand for PTA is growing at the most robust rates in Central and Eastern Europe and – since a majority of PTA consumers are located in close proximity to PKN ORLEN's plant – this means a convenient access to an extremely prospective market.

Large amounts of PTA are also consumed by the Chinese, Indian and Western European markets. PKN ORLEN is well placed in terms of its technical resources, organisation and logistics to supply PTA from the new complex also to those markets, on which it has already concluded relevant sales contracts.

ORLEN's PX/PTA complex is the second largest and most advanced industrial complex of this kind in Europe. Its production capacities amount to 400 thousand tonnes of paraxylene and 600 thousand tonnes of terephthalic acid per year, which represents 20% of Europe's total output.

"Given the scale of production, pioneering use of cutting-edge technologies and capital invested, the new complex is a project of strategic importance for the whole Polish petrochemical industry. For our Company, the launch of Poland's first PX/PTA complex is a landmark project, which extends our value chain. It is our response to very rapid changes throughout the industry, which require us to keep exploring new growth opportunities and profitable technology solutions. We are confident that the new project will strengthen the Company's position and, consequently, increase its shareholder value," said Jacek Krawiec, CEO of PKN ORLEN.

The PTA plant in Wloclawek occupies an area of 16ha, on which 15 new buildings were erected and more than 800 various facilities, such as tanks, reactors, exchangers and pumps, were installed. 25,000 cubic metres of reinforced concrete were used to construct the plant, whose steel structures weigh 5,200 tonnes. Additionally, 7,000 lines of different pipelines, measuring from a few to several thousand metres in length, were built.

The PX/PTA complex includes unique equipment with large dimensions and weight, among them: a 700-tonne compressor, a titanium-lined reactor weighing 450 tonnes, and dryers weighing 260 tonnes each. Because of their size, some pieces of the equipment could only be transported by water.