Premier of Sunbrella Contract with Defiance at NeoCon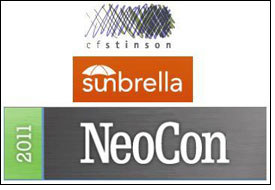 In collaboration with CF Stinson, Glen Raven Custom Fabrics is unveiling a premiere collection of Sunbrella Contract fabrics specifically designed for the healthcare industry. Sunbrella Contract with Defiance, which debuts during NeoCon, incorporates antimicrobial technology that inhibits the growth of bacteria and fungus, complementing the brand's legendary fade- and stain-resistance and bleach cleanability.

"The distinctive feature of Sunbrella Contract with Defiance is the way in which we have incorporated antimicrobial technology into a fabric that is beautiful and soft to the touch," said Allen Hawks, contract fabrics market manager for Glen Raven Custom Fabrics. "Healthcare providers today want to offer their patients comfortable, stylish and easy-to-clean surroundings, and our new offerings fill this need."

Leading fabric distributor CF Stinson will be the first company to offer Sunbrella Contract with Defiance, displaying the fabrics in its showroom (Suite 10-150) during NeoCon 2011 in Chicago from June 13-15. The first exclusive group of fabrics by CF Stinson is called The Day Dream Collection and features whimsical designs that evoke a happy, transcendent vibe.

"Our business often involves putting fabrics into environments where people are ill, anxious or find themselves in stressful situations," said John J. Rowan, Jr., director of sales and product development for CF Stinson. "Our collection with Sunbrella was designed with those individuals in mind, in the hope that we can contribute to creating a comforting environment for them."

The Day Dream Collection brings to mind the relaxing, carefree days of summer, with fabrics in a variety of colorways including sophisticated neutrals, stark black and white, soothing greens and blues and playful saturated hues such as fuchsia, tangerine and lime.

The pattern Wish features circles reminiscent of bicycle spokes or parasols. Bloom is a large-scale, sophisticated floral with a soothing botanical influence. A bold and compelling fabric is Flip Flops, a vibrant multi-colored stripe inspired by beachside cabanas and beach balls. Firefly is a design of interlocking ovals that evokes images of summer games such as croquet or Frisbee. The solid Splash ties the collection together in 15 different color options.

The soft hand is an outstanding characteristic of the collection, with Sunbrella spun yarns and a high-end count that allows for intricate design details, enhanced performance and comfort. The fabrics passed the American Association of Textile Chemists and Colorists 100 Antibacterial and 30 Anti-fungal Part 3 test and the State of California's Technical Bulletin #117b Section E (CS-191-53) Classification: 1 Normal Flammability.

"This new collection builds on the long history of durability and performance for which Sunbrella is known, and translates that heritage into fabrics ideal for a variety of healthcare settings," Hawks said.