By: Dr. Subrata Das
Consumer Testing Laboratories (India) Ltd., Inc
Bangalore

E-mail : drsubratadas2000@gmail.com
A new focus on the apparel retail sector has attracted attention in recent days. Top exporters have introduced their own brands and are aggressively positioning themselves within segments of the domestic market. The rising importance of branded segments in the domestic market combined with the pressure of import competition is blurring the boundaries between exports and domestic production in countries with large home markets, such as India. With the changing lifestyles, organized retail is playing a key role in structuring the Indian domestic market, reinforced in particular by rising incomes and growing purchasing power among consumers in rapidly growing sectors of the economy such as information technology and business process outsourcing.

Retail sector in India is witnessing a huge revamping exercise as traditional markets make way for new formats such as departmental stores, hypermarkets, supermarkets and specialty stores. The branded apparel market represents the largest source of growth. The mens branded apparel market is growing at a rate of 21.8% and branded womens apparel segments represents 35% of the total branded apparel market and is growing at an incredible 23% annually.

Leading domestic retailers are becoming more firmly entrenched, increasing their scale of operations and stabilizing their logistics and technology initiatives. A few significant foreign players have been selling their branded apparel in India for number of years. But, now, just like their India counterparts, global apparel brands are setting up their own apparel outlets, instead of just selling through departmental stores. Though local retailers generally enjoy higher margins, they wont be able to keep global retailers at bay for long because of international experience, buying power, IT systems and cash flow to tolerate lower profits. Presence of these brands will make the Indian Consumer become more aware of the international fashion and lifestyle trends leading to a move-up of the industry in the value chain. In this paper, the recent trend and prospect of apparel retail sector in India have been discussed.

The Global Retail Scenario

Retailing has been defined as business activities involved in selling goods and services to consumers for their personal, family or household use (1).Although retailing has been around for millennia, the 20th century witnessed a lot of change in the retail sector, especially in the developed countries. Modern formats such as department stores, discount stores, supermarkets, convenience stores, fast food outlets, speciality stores, warehouse retailers and hypermarkets have emerged. Retailing has become more organized and chain stores have been growing at the expense of independent shops.

The chains are utilizing sophisticated information technology and communication to manage their operations and have grown rapidly not only within their home countries like US, UK, France, Germany and Holland but to other developed countries. Walmart Stores, the US retailer, was recognized as the largest firm in terms of sales in 2002 in Fortune magazines list of 500 largest global firms. Modern retail formats have also spread beyond developed countries and are becoming more important in the NICs and developing countries.

Large format retail businesses dominate the retail landscape in the United States and across Europe, in terms of retail space, categories, range, brands, and volumes. Indian retail industry cannot hope to learn much by merely looking at the Western success stories in retail. Their scales of operations are very huge, the profit margins that they earn are also much higher and they operate in multiple formats like discount stores, warehouses, supermarkets, departmental stores, hyper-markets, convenience stores and specialty stores. The economy and lifestyle of the West is not in line with that of India and hence the retailing scene in India has not evolved in the same format as the West nor can we learn valuable lessons from their style of operations.

Indian apparel Retail scenario

In its market research report, Indian Retail Sector - An Outlook [2005-2010] RNCOS estimated that the Indian apparel retail industry generated revenue of $2.0 billion in 2004 with a growth rate of 8.2% during 2000-04. As a result, this industry in India is second largest in the world after China. The Indian apparel retail industry varies within even short distances, as the designs of the outfits are based on the regions fashion trends.

According to this years Global Retail Development Index India is positioned as the leading destination for retail investment. This followed from the saturation in western retail markets and we find big retailers like Wal-mart and Tesco entering into Indian market. AT Kearney has estimated Indias total retail market at US$ 202.6 billion which is expected to grow at a compounded 30 percent over the next five years. With the organized retail segment growing at the rate of 25-30 per cent per annum, revenues from the sector are expected to triple from the current US$ 7.7 billion to US$ 24 billion by 2010.

NICHE foreign retailers are making a beeline for the Indian market. In fact, despite the FDI policy pertaining to retail being unclear, over 10 foreign niche segment retailers have recently set up or announced their intention to set up shop in India using the franchisee route, with several others waiting in the wings.

International brands such as Benneton, Lacoste, Levi Strauss, Crocodile, Dockers, Lee, Wrangler, Nike, Reebok, Adidas, Guess, Esprit, Mango, Hugo Boss, Mark & Spencers and Tommy Hilfiger have already built a retail presence in the country, while market watchers point out that several more such as Versace, FCUK, Zara, Mother Care, Ikea, Fendi, NEXT, Debenhams, Trussardi, and DKNY have charted out a strategy to enter the Indian market. Most of the brands entering the market are targeted at the premium end. According to estimates, the premium apparel segment in India is valued at about Rs 1,900 crore and growing at 20 per cent.

In addition to the patterns above, four additional factors which are transforming supplier capacities in ways that are blurring the boundaries between firms producing for the domestic market and those producing for exports are as follows:

1. Enhancement of local capabilities in the area of logistics i.e. warehousing and customized tracking systems.
2. Interesting emergence of design as a source of competitive advantage in Indian apparel
3. Growing importance of local investment by Indian apparel firms as a way to counter the exclusion of India from all major regional trade agreements and the advantage of tariff free entry into major markets that many of Indias competitors enjoy i.e. Mexico in the US markets, Turkey and Bangladesh in EU markets
4. Increasing focus on domestic brands

Renowned exporters in the country such as Reliance, Arvind, Raymond, Orient Craft etc. are developing their supply networks and distribution systems, seeking distinctive niches and generally staking out their terrain in the domestic market to consolidate their first mover advantage. Success story has emerged in the domestic apparel garment segments for the local brands and not limited to Pantaloon, Lifestyle and West Side only. No wonder a heavy weight like the Reliance group is planning to do a Wal-Mart in India.

Now there is an increasing demand of branded apparel segment in the domestic retail market for the same features that are valued in demanding export markets. These shifts in retail are fuelling the demand for good quality and trendy apparel, which in turn deepening the importance of aesthetics and design in the domestic market. It is worthwhile to mention that the rise of younger class of middle-class consumers, spawned by the booming BPO and IT sector, has led to burgeoning demand for locally designed, ready to wear clothing in Indian metros. As many surveys have established, with good salaries, strong peer pressure and the growing availability of brands across product categories, spending in retail is being driven by the youth segment in large and mid-sized metros (2).

Retail concept development

With the advent of the e-commerce, new retails concepts have also been perceived. It is a necessary component for keeping stores fresh and relevant and for staying ahead of their competitors. This is even more important today when consumers will have considerable choices from new channels available. Now is the time for retailers to be developing new concepts or, at the very least, rethinking and reenergizing their current formats. An important and compelling reason for innovation is the overall compression of the retail life cycle. Where a concept once had 30 to 40 years to progress through the retail life cycle, the average life cycle is now greatly compressed. In the present scenario, ideas get into market faster, grow more explosively, and face obsolescence in a shorter period.

The average retail life cycle looks like any typical bell curve. There is a period of development for an emerging concept, followed by a period of rapid growth, maturity, and eventual decline. This life cycle is still valid but there are major changes in the time periods involved in each stage. Concepts are growing, maturing, and declining faster than ever.

Traditional and modern retail life cycles are shown in Figure 1 and Figure 2, respectively.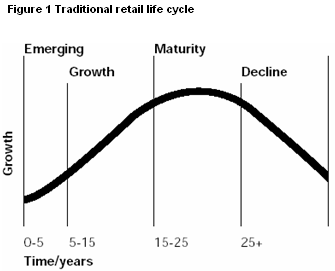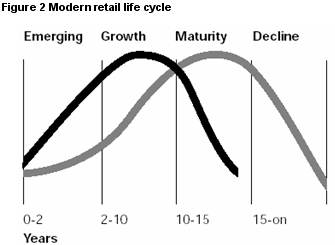 Contributing factors of modern retail boom in India

The driving forces towards development of apparel retail in India can be broadly classified into following categories:


Economic development
Improvements in civic situation
Changes in consumer needs, attitudes and behaviour
Influence of fashion
Changes in government policies
Increased investment in retailing
Rise in power of organized retail. Economic development

The development of the Indian economy is a necessary condition for the development of the Indian retail sector. The example of Thailand shows that the impetus to modernization of retail was provided by the economic boom in Thailand (3). Development increases the disposable income in the hands of consumers and leads to an increase in the proportion of spending on discretionary non-food items. Economic development also enfranchises new households as potential customers for modern retail and leads to increased ownership of personal transportation among consumers, which in turn can increase their willingness to travel longer distances to shop in new format stores. The growth of the economy can also provide gainful employment to those who would otherwise enter retailing in areas like hawking, roadside vending and other similar low cost entries into the retail sector. Rapid economic development may also positively influence the views of international retailing companies about the business prospects and investment attractiveness in a country. A high degree of inflation in the economy is however, not conducive to modernization of the retail sector. In Brazil, the real progress in retail was noticed only after the stabilization of the economy and control of inflation (4). Development also has an influence on the regions and cities where modern formats are initially set up. In the Greek, Thai and Brazilian cases, modern formats initially appeared in the important cities. This has been noticed in India as well as the modern formats first appeared in the metros like Delhi, Mumbai and Chennai and the mini metros like Bangalore and Hyderabad due to the comparatively higher level of disposable incomes available in these cities.

Improvements in civic situation

The civic situation includes factors like safety and security in the city and the various municipal regulations governing the opening, location and operation of stores, and the nature of public transport available. A safe and secure environment will encourage the setting up of 24 hour convenience stores and the operation of shopping plazas and encourage shopping expeditions for the whole family. The presence of adequate parking facilities or excellent public transportation will encourage consumers to be more mobile in their choice of store. City or state regulations on opening or closing hours, rent control laws, availability of adequate electrical power and regulations relating to licensing will affect both the time required to set up a new store as well as the cost of store operation and its viability. Many of the civic factors mentioned above would be dependent on the economic development and administrative policies in the area. The impact of the civic situation may influence the choice of the cities, states, zones in which the modernization investments will be made.

Changes in consumer needs, attitudes and behaviour

The growth of modern retail is linked to consumer needs, attitudes and behaviour. Marketing channels including retailing emerge because they receive impetus from both the supply side, and the demand side. On the demand side, the marketing channel facilitates to provide service outputs that consumers value. These service outputs may include but are not limited to bulk-breaking, spatial convenience, waiting and delivery time and assortment (5). In Indian retailing, convenience and merchandise appear to be the most important factors influencing store choice, although ambience and service are also becoming important in some contexts (6). Modernisation will have to address convenience issues while presenting strong alternatives to the weaknesses of traditional formats in selection of merchandise available for sale. Modern formats need not be expensive and can offer lower prices to consumers (7). Lower prices in turn will increase the attractiveness of modern formats and rapid growth in the preference for purchasing from new format stores.

Store ambience includes issues such as lighting, cleanliness, store layout and space for movement. Modern stores can offer a far better ambience compared to traditional stores. On the service front, traditional stores offer credit and home delivery. These needs will have to be addressed by new format. Experience from Brazil shows that the combination of entertainment and shopping provided by some shopping centres, is attractive to consumers. This may become important in India as well because of the limited entertainment options currently available in cities. While consumer needs, attitudes and behaviour will influence the development in retail; it is likely that investments in retailing and the creation of new stores offering value will in turn influence consumers. This appears to have happened in Greece, Thailand and Brazil.

Another important paradigm shift in Indian apparel retail pertains to the rise of the purchasing power of the younger segment in the modern society. In fact, it is fuelling demand for domestic and oversees branded apparel at a rapid space. This demand is augmented by the arrival on the scene of retailing formats such as malls that are providing ready outlets for goods catering to this growing market niche. Thus, from the demand side, this preference for higher value apparel, and the growing availability of organized distribution channels through which these products can be marketed is creating the conditions for the rise or development of whole new segments of the apparel industry in India with higher value capabilities on the supply side across the value chain.

Influence of fashion

Fashion has played a key role in shaping apparel consumerism. With the change in lifestyle, fashion in India is becoming more stratified, as in the West. Technology, ideas and lifestyles are moving concurrently, and speedily. Companies and brands that offered monotonous, mundane products for years have now tripled their product ranges and new appealing shapes and forms are being launched each season. Top notch professional bodies in fashion trade are now working towards developing the fashion supply chain through backward linkages with suppliers and mills, and forward linkages with the retail and distribution network (8).

Changes in government policies

The Indian government has clarified on a number of occasions that foreign direct investment will not be permitted in India. Major international retailer organizations will be watching for signals of policy change especially because China has permitted foreign investment in retail. In opening up the retail sector, the government may consider various approaches such as insisting on joint ventures, limiting the foreign stake, or specifying the city areas where investment is permitted. Thailands example shows that in case of joint ventures, the local partner can play a significant role in the success of the joint venture. The Brazilian experience shows that local retailing groups can successfully compete against international chains if they adopt innovations and restructure operations in accordance with market needs. Some policy protection can be given to consumer cooperatives which have been providing value to their members and customers. This protection can be in the form of allowing these organizations to access capital from the local market and operate in a more professional manner. The government can also play a positive role in simplifying or eliminating the plethora of regulations governing retailing. Specific laws relating to franchising will also be desirable for foreign and Indian brand owners to adopt the franchise route in a bigger way. According to the new directive of Indian Govt, foreign chains selling single brands were allowed in January to take up to 51% in Indian joint ventures.

Increased investment in retailing

The prospects for significant modernization and development in retailing will depend on the nature of investment in this sector. The investment will be of two types- foreign and domestic. The quantum and nature of investment will depend on the factors outlined earlier namely economic development; civic situation; consumer needs, attitudes and behaviour; and government policies. Although FDI is been permitted selectively in retailing, a number of global retailers are testing the waters by signing technical agreements and franchises with Indian firms. Fast food chains like McDonalds and Pizza Hut are already operating in the metros. A Marks and Spencer store is already operational in Mumbai. Several global retailers are awaiting a change in policy. However, the development of the Indian retail sector is dependent not just on foreign investment but on Indian investment as well. Since the 1980s industrial groups such as Reliance and Raymonds have been active in encouraging development of well appointed exclusive showrooms for their textile brands. In the 1990s industrial houses like Rahejas, Piramals, and Tatas have entered retailing. Several Indian and foreign brands have used franchising to establish exclusive outlets for their brands.

At present the new format stores cater mostly to households belonging to the higher income families. The catchment area for these modern stores has to be fairly large as the number of such households is small in relation to the total population. This limits the number of stores and constrains the growth of chains. The modern stores have also been plagued by low conversion in relation to the number of footfalls. This means that although a large number of people visit the store, the number of buyers and the average bill amount is small. Due to low sales, the bargaining power of the retailers with suppliers and manufacturers is low and this restricts their average gross margin. On the other hand the expenses involved in setting up and maintaining a modern format store tend to be much higher than traditional store due to the additional expenses on larger size, better locations and superior ambience. Therefore if the returns on investment in the new formats have to be attractive, modern retailers have to develop a strong supply chain that provides them significant gross margins while delivering merchandise at attractive prices to customers. In order to do this, modern retailers will need to eliminate middlemen and buy directly from suppliers and make use of technology to control inventory. These developments will impact the survival and existence of middlemen such as wholesalers and agents who will have to find new business models to survive. Manufacturing firms will also face pressure from strong buyers on price, delivery and service terms.

Increase in power of organized retail

Bargaining power of organized retail translates directly into higher gross margins for the retailers. At present there are a large number of independent retailers with little bargaining power vis a vis manufacturers, distributors and wholesalers. Manufacturers have been promoting their brands and generating consumer demand for branded products. This makes it necessary for all varieties of stores especially in urban areas to stock branded products. Manufacturers take advantage of the consumer pull to limit margins to the retailers. Retailers manage their profitability by operating on a very low cost basis. This is possible because of low rental expenses due to historical reasons and low labour costs due to employment of family members in the store. The modern stores have somewhat higher gross margins, but their net margins are not very significant for providing the cash flow required to fuel rapid growth in outlets. Retailers can increase their power in several ways. They can invest efforts in developing their own store brands. The supermarket chain Foodworld has begun doing this in a limited way with foodgrains and pulses. Secondly they can invest in supply chain, buy directly from the sources and eliminate middlemen. Thirdly they can attempt to obtain volumes in buying by aggregating the requirements of various stores, and bargaining for better prices by placing large orders. Although this strategy suits chain stores, independent grocers may also get together by forming a cooperative or buying club in order to benefit from scale economies in purchasing. Retailers can also obtain several benefits from using information technology. They can monitor their stocks and sales using IT and thus manage their working capital more efficiently. They can also analyse data about customers and their buying habits and be in a position to develop marketing strategies and promotional offers to increase customer purchasing at the outlet.

Manufacturing firms will need to develop new strategies for dealing with powerful retailers. The first change required will be one of mind-set. Negotiations with powerful retailers will have to be carried out at much higher executive levels within the firm. New structures such as National account managers, Category managers etc. would need to be deployed. Firms will have to reconsider their brand promise, brand promotion and their brand building policies to deal with store brands that will be introduced by retail chains. Firms will also have to re-engineer their logistics policies to meet the demands of powerful retailers for just in time delivery to their distribution centres or stores. New product introductions will have to be coordinated with the retail chains so that adequate shelf space is available at launch. The firms will need to carefully look at their product cost structures both in terms of variable cost and allocated fixed costs in order to maintain profitability in the face of pressures for price reductions from powerful retailers.

Retail Branding versus Product Branding

A great difference between product branding and retail branding is that in many cases products have an anonymous or even fictitious presenter, whereas in retail, consumers come in direct contact with the company and/or product. A Cadburys Dairy Milk chocolate bar, for example, is a product made according to a set recipe in a factory that is not open to the public. In addition, the people who work there never come into contact with the consumers because the retail channel lies in between. And those who do sell the CDM to the end-consumer (the retailers) do not have very much to do with it by virtue of their function. Therefore it is possible to conceive a brand identity for the product, establish it for a specific target group and then fix it in the minds of consumers. Compare the identities of Five Star Perk, Gems and Temptations: all very different, yet they come from the same manufacturer The issue is not of retailers selling brands but branding the retail business itself, like the fashion store. A hypermarket or department store, may offer several well-known brands, but in todays competitive world cannot afford to rest on its strategic product assortment and pricing initiatives to bring in the customers. The retailer must attempt to brand himself differently, especially when todays product brands are being launched through their product brands own shops. (Examples in the shoe segment Nike, Adidas and Reebok. Jeans segment Lee and Wrangler, Perfumes Hugo Boss)

Apparel retail will have to ensure that its own brand includes the characteristics of product brands detailed above. Retailers need to work on three dimensions to achieve this:

(1) Brand value:

The retail brand has to translate and transmit clear values to the customer. For instance, value for money, Luxury shopping redefined are some of the slogans. Some companies have attempted to define this in their mission statements but they are often too vague and not actionable. For example the U.K. Virgin brand has the value of challenging conventions and the U.S. retailer Nordstrom has built the value of customer service. While many Indian product brands have successfully weaved values around their brands (Hamam on trust, Godrej on quality and TVS on service) retailers are yet to develop a consistent value across their businesses. Some of the brands of domestic apparel retail of Pantaloon and Lifestyle are also attracting attention to the consumers. Pantaloon retail brands include Honey, Bare, Rig, UMM and Big Bazar category comprises DJ&C, Knighthood, Studio NYX etc. Among the Lifestyle brands, MAX, KAPPA, BOSSINI are becoming increasingly popular to the domestic front.

(2) Brand strategy:

It is imperative that retailers have a systematic strategy on issues like whether to develop the retail brand or corporate brand and decisions on one product/one brand that they may be selling in their shop. Retailers can also decide to launch high quality retailer brands (own labels) backed by promotional campaigns, reinforcing clear personalities. Pricing policies, today position retailer brands as good value lines or premium lines (Nilgiris department stores prices its grocery lines above manufacturer brand prices).

The view that retailer brands offer a cheaper alternative to manufacturer brand is no longer valid. There is even scope for retailers to develop alternative types of own labels targeted at different consumer groups in their outlets. An essential ingredient for success, in such cases, must be consumer-relevant added values not just lower prices. It is only a minority of consumers, today, who are prepared to trade off added values for lower prices. Experienced consumers are no longer primarily motivated by low prices. There is scope to attempt a retail segmentation strategy. For example, DCM Benetton India redesigned its stores as per its international format and also repositioned the brand from a casual wear brand to a wardrobe option. The company is now attempting to target a niche audience through its concept stores. It launched a Baby-on-Board' store, which targets mothers-to-be and kids, an `Accessories' stores that sells luggage, bags, sunglasses and vanity cases and an Adults Only store that showcases Benetton's apparel collection for men and women.

(3) Brand structure:

Operational levels of the retail business have to be held together to integrate the whole brand proposal. At this level, marketing, human resources, distribution, logistics, administration and sales have to work towards a common brand value that has to be communicated to the consumer. The retail brands messages must be weaved into the every day experiences that the consumer has with the retail brand. Brand building constitutes a way in which the main value of the retail store shifts to what
has been traditionally called an intangible. Indian apparel retailing is coming of age and needs to have a clear brand proposition to offer the discerning Indian consumer. There is no doubt that the apparel retail business is gravitating from high street towards destination shopping (mall development) with enhanced mall space expected to hit the metros and mini-metros across the country.

Concluding remarks :

While answering to the question Why Indian organized apparel retail is at the brink of revolution? the apparel retail segment in India has come out with following notes:

(i) Scalable and profitable retail models are well established in apparel sector

(ii) Rapid evolution of new-age young Indian consumers

(iii) Retails space is no more a constraint for growth

(iv) Partnering among brands, retailers, franchisees, investors and malls

(v) India is on the radar of global retail suppliers. But domestic retailers in the sector have the advantages in terms of knowledge of domestic retail and market, low overhead costs, support from local community and understanding of domestic politics and economics. However, global retailers would be ahead of them in supply chain management and technology.

References

1. Berman, B. and Evans, J.R. 2001, Retail Management, (8th edition), Upper Saddle
River, N.J., Prentice Hall.

2. Bhusan, Ratna and Sanjay Anand, 2005, The Young and restless drive
consumerism, Times of India, April 4.

3. Feeny, A., Vongpatanasin, T., and Soonsthan, A.,1996, Retailing in Thailand, International Journal of Retail Distribution and Management, 24 ( 8) 38-44.

4. Alexander, N. and Silva, M..D., 2002, Emerging markets and the internationalization of retailing: The Brazilian experience, International Journal of Retail Distribution and Management, 30, (6) 300-314.

5. Coughlan, A.T., Anderson, E., Stern, L.W. and El-Ansary, A.I., 2001, Marketing Channels, (6th Ed). New Delhi: Prentice Hall of India Pvt. Ltd.

6. Sinha, P.K., Bannerjee, A. and Uniyal, D.P., 2002, Deciding where to buy: Store choice behaviour of Indian shoppers, Vikalpa, 27 (2) 13-28.

7. Rao, S.L.,2001, Foreign investment in retail trade, Economic and Political Weekly, 36 ( 41) 389-392.

8. India brand Equity Foundation, 2004, Apparel retail : Labelling the Indian market, www.ibef.org, 4.

About the author:



Dr. Subrata Das, did his Ph.D (1997) and M.Tech (1986) from the Textile Technology Department of I.I.T.Delhi after completion of B.Sc(Tech) in Textile Technology(1983) from Calcutta University. He is having around two decades of working experience in Shop floor, Research & Development, Quality Assurance and Teaching. Dr. Das had visited abroad several times and received special training in Social Accountability, Laboratory Management Systems and Excellence in Retail Store Operations. He has performed more than 100 audits in Bangladesh as a lead auditor in Social Compliance for reputed garment buyers throughout the globe.

Dr. Das is presently heading the Consumer Testing Laboratories (India) Limited, Inc., Bangalore. He has around 75 publications in reputed national and international textile journals and presented 20 technical papers in various national and international conferences. He is also in the panel of referees in Indian Journal of Fibre and Textile Research.

E-mail : drsubratadas2000@gmail.com
---
To read more articles on Textile, Fashion, Apparel, Technology, Retail and General please visit www.fibre2fashion.com/industry-article

To promote your company, product and services via promotional article, follow this link: http://www.fibre2fashion.com/services/featrued-article/featured_article.asp