The journey of lingerie from 'cotte' to trendy intimatewear
The existence of lingerie is as old as the existence of women who wear it. In the middle ages things were easygoing as women wore various corset-like alternatives like the cotte, the bliaunt and the surcot, which move on easily over their dresses and hold the breasts firmly. Wearing underwear/corsets has been practiced since the ancient civilization of Egypt and Greece, where women wore corsets to support their breasts. Bras have been worn in all ages to support women's breasts and give them a fashionable look.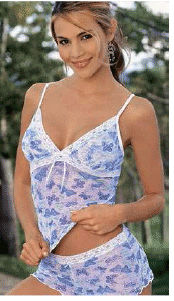 18th Century: It is believed that the history of underwear started in the 18th century. The padded silhouette with a flat stomach, slim waist and cone-shaped bust was a style. The corset, a vital part of any woman's clothing at that time, gave the body a typical shape, squeezing the internal organs and making them feel comfortable. Extreme usage of satin, silk and damask decorated with embroidery, ribbons and laces gave the effect of artistry.

19th Century: Women wore corsets, crinolines and bustles. The S-shaped silhouette trend started at that time. Women wore underwear like knickers, corset, camisole and waist slip.

20th Century: Lingerie turned out to be simpler and more practical. Corsets were replaced by a more flexible girdle modern bra. Pastel colours for lingerie came into existence. In 1910 boyish silhouette became a trend. The first brassiere to have a patent, which was accepted largely, was a bra invented by a young New York socialite named Mary Phelps Jacob in 1910. In the 1930s femininity became a fashion trend. A woman was covered by the one-piece garments known as corsets including a curved and bust-emphasizing brassiere and girdle with garters. But one-piece corsets were accepted largely and panties were reduced in size and finally gained the shape of bikini briefs.

21st century-the era of intimacy-intimatewear: In this era the fashion is pushing women to exhibit the underwear as outerwear which is worn for the sensitive pleasure of a partner. Lingerie is considered as the second skin by many women. In the present era, women have more choices than ever in terms of style, design, fabrics etc. Since many centuries fashion in connection to lingerie styles was toggling between the feminine and masculine, painful and practical. In the recent time, lingerie is the most attractive, luxurious and feminine clothing that is worn intimately and respected for its practicality and comfort.
Worldwide Market Growth Forecast of Lingerie

Today, the main concern about marketing the lingerie products is the fight for share between global brands and retailers' local labels worldwide. It is also about consumers' choice and acceptance of brand. With its matchless combination of fashion and function, lingerie is a product category that crosses the fine line between necessity and luxury. Besides these features, it has increased into about a US$30 billion-a-year industry and placed itself for further growth over the next five years.

To know the global lingerie market, it is essential to check out not only the competition between brands, but also the separate bra-wars taking place between brands and local retail labels. The leading player among lingerie brands worldwide is United States-based manufacturer Sara Lee, which has a major market share in its home country as well as the European market. After Sara Lee there exist companies like Warnaco, Fruit of the Loom, VF and Maidenform, in Europe Triumph also possess a major market share. The more comfy La Perla, meanwhile, is atop the high end of the world lingerie market.
In the retail sector, US chain Victoria's Secret, the UK's Knickerbox and northern European retailer Hunkemoller provide to the specialist market, but the huge quantity of lingerie is traded by clothing retailers like Marks & Spencer and hypermarkets like Wal-Mart and Carrefour. Though, the tendency is to be robust on briefs than bras, and repeatedly sell these items in multiple packs. While the leading retailers and brands keep up to propel the market, the nature of uniqueness demands that there is also a push of smaller, more up market labels that offer to a few niche.

Of the total world lingerie market, amounted to US$29.5 billion annually in 2003, bras calculated to 56 per cent of total sales, while briefs and the body wear/daywear/shape wear category add 32 per cent and 12 per cent in that order. Of about 6.4 billion bras and briefs were procured worldwide in 2003. The report shows that the average woman buys two bras and five pairs of briefs per year. Lingerie sales in the developed world are observed to be basic fashion-driven, with the average woman having six bras and eight pairs of briefs in her wardrobe - more than she usually requires.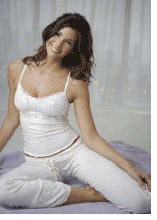 The buying of these products is normally determined by style factors, like as what styles (g-string, padded bra) look best under certain types of clothing, or what colors appear best. In the past, this picture has not been right for developing countries where lingerie is bought more out of need than desire. Though, population growth, unstable demographics and the appearance of consumers with more disposable income is changing purchasing habits in these regions, and the lingerie market is projected to gain advantage from this opportunity.

According to a research report, the global lingerie market was calculated to be $29.15-billion (U.S.) in 2004 and is projected to increase (at the rate of about 9 per cent) to $31.6-billion in 2012. And the product category that will have the quickest growth is "bodywear, daywear and shapewear."

Despite this noteworthy growth, demand for lingerie in the developed world has been observed to be rising at about five per cent (based on low population growth, ageing demographics and product saturation), while that of the rest of the world is projected to increase by almost 20 per cent.

While this turns out to be a fairly steady 7 per cent raise in world volume to 6.8 billion units, it also amounts to massive growth in developing nations. This will go together by a noteworthy push towards offshore manufacturing in countries like China and India, as continuing enhancement in technology and communications make such alternatives far more cost effective than the domestic alternative. Markets that are expected to develop in the future include the Indian sub-continent, China and Southeast Asia. India and China are projected to increase their international market share by about US$100 million each, while Southeast Asia, already a leading market for lingerie, will increase by US$350 million in value.

Given that price points in these sub-regions are somewhat low; this expected growth shows an opportunity in huge quantity for lingerie companies. Products which shape the body and offer smooth curves are observed as a key growth sector for baby boomer lingerie buyers. New and innovative fabrics like Lycra and microfibers will keep on featuring a lot in this segment.
Prices to keep steady

With downward price emphasis at a retail level compensating any attempts at increasing manufacturers' costs, prices are not anticipated to have any noteworthy impact on lingerie market growth in the developed world till 2010. Though, value growth in the developing world is more complicated to estimate, due to the extensive trading in the gray or black markets and, hence, not at normal retail prices.
Nonetheless, Sara Lee is anticipated to keep on its dominance of the developed world market and formulate sizable inroads into other markets over the next five years - even in the challenge of financial problems faced by competitors such as Warnaco and Maidenform. Along with it the low profile and hence low debt European companies like Triumph and Wolford will keep surviving. It is understandable that high-volume growth for lingerie's leasing players will come from emerging markets, while, in a sector where discrimination is important, beneficial business will also be held by niche marketers. Fortunately for all matter, lingerie is pushed by female consumers' loyalty to brand, fit and comfort, making it as one of the more financially strong segment in the apparel market.
China

China exported 4.2 billion pieces of women's undergarments in 2004, a 30 percent raise from 2003. In China, Shantou is one of the leading manufacturing hubs for women's undergarments with well-set up and good factory management systems, offering prompt service and efficient supply chain system. This harbor city in Guangdong province exported women's underwear worth $650 million in 2004, accounting to be the third of China's outbound shipments of the product. Shantou possesses more than 1,500 suppliers, about 150 of who export directly. Shantou's associated towns of Gurao, Xiashan, Chendian and Liangying are the leading manufacturing areas. Gurao, the biggest center, has more than 440 undergarment makers. Annual sales reach $260 million, including 564 million brassieres and 180 million pairs of underpants. Shantou is renowned across China as a major producer of knitted underwear. Xiashan and Chendian each produce more than $100 million worth of women's undergarments per year.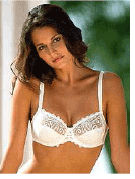 Suppliers in Shantou vary from small companies with 50 workers to big manufacturers with 1,500 employees. Though, small and midsize suppliers constitute the major companies. Many suppliers possess vertically integrated production with in-house fabric knitting, dyeing, finishing and printing, and garment sewing, embroidery and packing capability. The city's bra and panty suppliers target on midrange models, but high-end designs are also made by them. Approximately 90 per cent of output is for OEM orders.

Seamless bras and panties are trendy designs which are more preferable now a days. Hanzina Underwear Co. Ltd, a leading supplier of such products, has invested a huge amount in 20 Santoni circular knitting machines from Italy, two warp knitting systems and 350 sewing machines. The company makes 200,000 pieces per month. The use of lace and embroidered fabrics is also well-liked among Shantou suppliers. Chengtai Underwear Knitting Factory makes bra and panty sets with lace trimmings, embroidery or prints.

The midsize company makes undergarments for Wal-Mart and donna l'oren. Hongjie Underwear Industrial Co. is also a leading producer with 1,500 workers and fully integrated production that covers fabric knitting and sewing. The company provides fancy bras and panties in crocheted fabrics, intricate prints and embroidery. The company also produces items like push-up and convertible brassieres.

Many companies are making efforts to decrease their lead and delivery times. Shantou's port, one of the 20 leading harbors in China, transports cargo to many countries and regions. This facilitates suppliers to provide convenient shipping to foreign buyers and supports in continuation in transportation at cheaper rates.
India

The lingerie market in India is still in its infant stage and, until in recent times, the accessibility of high quality intimate apparel was limited to irregular or grey imports sold under the counter. Because of the limited products and lack of enough specialized and organized retail atmosphere, the fashion realization and quality awareness of the Indian consumer for intimate apparel is yet to be realized.

India is also one of the most scattered retail markets in the world. The products, so far, have been mainly marketed as a commodity and are price and margin oriented. Till today huge quantities of bras are sold to end users by male salespersons in mom-and-pop shops. Majorities of the stores do not even provide a trial room.

As a consequence, large consumer base are not sure of the functional features of a bra or even their own sizes. When Gokaldas Intimatewear began developing Enamor, their first aim was good fit. Across India Enamor surveyed and measured 4,000 women. They noticed that 80 per cent of Indian women wore a uncomfortable fitting underwear. In India, bras were made only in B and C cup sizes, though Enamor's research found that most Indian women required A or D cup sizes.
In India Triumph, Lovable Lingerie, Enamor, VIP, Juliet, Amul etc are major players in lingerie market. Today 70 per cent of the lingerie market of India is unorganised. But that can be replaced with the increase in the number of malls and quality-conscious consumers. For example, Lovable's growth of 20 per cent last year was sustained by new retail space.
The joint market contribution of the leading five retailers in India totals less than two per cent. Though, Lingerie sales have increased by 12 per cent in the past five years because of a new awareness of intimatewear. Women's innerwear industry in India is worth Rs. 2,000 crore and is growing at an average rate of 12 per cent.

Turkey and Bangladesh have already observed the potential and are aggressively promoting its innerwear industry. Many Asian countries are defeating India in the US, the world's biggest clothing importer. According to the US office of Textiles and Apparel, in 2002 the country imported 198,094,426 dozen pieces of cotton underwear. India's contribution in this was a paltry 2.36 per cent. In bras using manmade material, the US imported 37,676,800 dozen pieces. While China constituted 32 per cent of these, Indonesia had 10.5 per cent. Even Bangladesh had 1 per cent. However, India exported a meager 0.65 per cent. Though, there is a great potential to be taped if approached in an organized manner with a proper set up.
Womenswear: the most profitable segment

The Rs.28,375-crore womenswear apparel segment covers 32.1 percent share of the Indian apparel market in value terms. In volume terms, market share of womenswear is one percent greater than that of menswear but in value terms its share is five percent less than that of menswear due to branded segment in womenswear was practically non-existent till a few years back. At present, it is the most profitable segment for investment. During 2005, volumes increased by 5.5 percent while value appreciation was as high as 15 percent.

Women's trousers and skirts category observed a highest growth during 2005, volumes growing nine percent and value appreciating more than 23 percent over 2004 levels. Western wear like suits and blazers and Lingerie are the two other categories where progress was excellent, volume and value growth being 10 and 21 percent respectively in the Western wear and 6.8 and 18.1 percent in lingerie.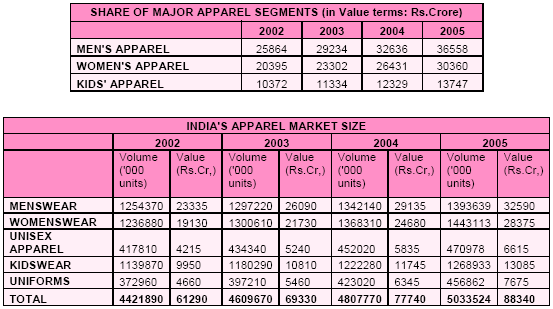 In early days the Indian women mostly trusted foreign products or directed their friendly corner tailors to stitch form-fitting bodice, which were worn under dresses. But now the scenario is different. The first trendy movement for both men and women was seen when Associated Apparels Pvt Ltd, producers of Liberty shirts, introduced the world famous Maiden Form bras, Jockey men's underwear and Jantzen swimwear in 1962 in India.
It was a lanky period for Liberty shirts with complexity in imports and the export market initiation, so the late Bhawandas Wadhwani approached the lingerie business with technical knowhow from the USA. The brands got an achievement of optimum level with their styles and quality. But due to the government's restrictions for foreign brands, Wadhwani discontinued the overseas tie-up and changed the names to Libertina for lingerie and Liberty for men's underwear in the late 70s. From 80s to 90s the company focused on undergarments. Even today Libertina and Liberty are still one of the major players in the lingerie market.

With the great triumph of Libertina and Liberty, other Indian companies also shifted into the lingerie markets. In the 70s Peter Pan from Dawn Mills entered in the market with lingerie styles of the West. The brand was popular amongst the Indian women, but two decades later it vanished from the market.

In 1971, VIP entered the men's underwear market with a big-bang and became the most talked about brand due to its advertisement featuring model Dalip Tahil. Since then VIP is a leading player in the men's and women's underwear market. VIP launched Petals, a Lycra moulded cup bra with motifs, which was accepted well at that time, but was later discontinued. But introducing Loveable in 1996 was a huge success as they brought in a foreign brand, but it was made in India. Lovable was followed by Feelings, VIP's domestic products and Daisy Dee another foreign brand. The very ultra Vanity Fair was introduced in 2004 and lastly a Korean Brand Try for men and women in 2004. VIP's fashionable new men's innerwear called Frenchie X was targeted to meet the challenges thrown by the foreign brands.

Another leading brand in the lingerie market is Rupa & Co established in 1985. Its variety of men's, women's and children's underwear put together makes it India's biggest innerwear manufacturer and seller. Besides these two brands there are other labels produced by them. Amul, Lux Cozi, Dollar are some of the brands catering to a particular segment of the men's underwear market, while the lingerie segment has its own local offerings like Neva, Bodycare, Softy, Lady Care, Little Lacy, Red Rose, Sonari, Feather Line and many more.

In the 90s Jockey re-entered the Indian market followed by Calida and Liberti Blu. Then the very high fashion Gossard existed for a limited time. In the 21st century, Enamor, another foreign brand entered the Indian market through Gokaldas Exports and the very chic French brand Aubade started its only outlet in Mumbai. La Senza is the next foreign brand that is set to enter the market while Hanes has already set with a very unconventional ad campaign targeted to comfort for the Indian male.

One of the leading foreign players in the Indian lingerie market is Triumph. They have a presence in 150 countries around the world and a turnover of US $2 billion with a production of over 200 million units annually, producing 6000 new fashion styles per year designed by 200 designers in 11 countries. Triumph started its operation in India in six metros, and is now spread in 45 cities. As far as lingerie is concerned, India is still in its initial stage. India has to wait to become a matured market as compared to the other Asian markets like Japan, Hong Kong, Singapore, China and Vietnam. In the last three years there has been a great growth in the business but the retailing of lingerie and distribution channels are limited. Triumph markets through retailers, MBOs, and two franchisees in Mumbai and Kolkata, and further more they are going to increase in the near future. From 300 outlets in India they target to cross 1,000 outlets in three-five years. With all raw materials imported from Europe, Triumph is produced in Chennai and has gained a 50 per cent raise in sales since it came into the country. Though, Triumph is the only internationally managed brand, it also aims to satisfy Indian buyers and has the capability to source intelligent fabrics not offered in India. Triumph was the first to introduce moisturising fabrics with Aloe Vera and the one-piece bra which is produced by one piece of fabric. The sizes and styles are very particular to Indian consumers. Triumph which begun production in India in 1998 has been exporting to the USA before it came into the local market. With 80 per cent exports and 20 per cent local sales in India, Triumph adds new products and concepts for 5-10 styles each year.

Lately, well-known international lingerie brands - Aubade - from the fashion capital of France has entered in Indian market.

While the international lingerie outlook is as exciting and bright as the outerwear one, India's growth in the former segment can be called just about negligible. Body and beach fashion shows are showcased twice a year around the world showing the latest trends in innerwear fashion. New underwear fabrics with 'anti' treatment like anti-stress, anti-smog, anti-static, anti-allergic, anti- bacterial, anti-moisture and anti-odour pamper the body. Top European products like Bruno Banani, Excellent, Schneider, Louis Feraud, Calvin Klein, Gianfranco Ferre, DKNY, La Perla, Gossard, and Schiesser are some of the brands that set their inspiration to the ultimate test. Thanks to the new outerwear performance made by designers around the world and India, lingerie is seemed with renewed fascination in India too.
It may be shocking that there are 1000 Indian brands in the market but only 200 are nationally active. The others cater to markets in the vicinity of their production. Many of these brands have so far continued the advent of MNC labels for the last decade and should continue to do so.

The Indian lingerie Industry is growing because of the increasing domestic demand coupled with huge export potential. It will soon receive an upfront position. From a cottage industry it can be transformed into a growing trade. Indian brands have experienced that they have to be more quality conscious and work harder in branding, promotion, packaging and innovation. Only the mindset to make world class lingerie is lacking. Smaller countries like Sri Lanka, Turkey and Bangladesh are major producers in this segment. Indian companies have recognized the significance of innerwear for men and women and the competition is just boiling as new and more players arrive to offer Indians that much required fashionable lift.
EU Bodywear market

In 2003, the consumption of total EU for bodywear amounted to ? 31.2 billion. Germany is still a leading market for bodywear. Though, the difference against other leading countries, like the UK and Italy has become much smaller. Four countries (Germany, UK, Italy and France) calculated to two thirds of EU bodywear consumption. Consumption increased by 6.3 per cent between 2000 and 2003, which shows an annual average increase of 2.1 percent. Consumption of bodywear decreased in Germany and The Netherlands in 2003, while consumption in the UK witnessed the largest growth of 4.4 per cent, followed by Italy 2.4 per cent, France 2 per cent and Spain 1.2 per cent. Sales and consumption in Germany are still decreasing which has had a disproportionate effect on these numbers. Even if Germany's bodywear sales had remained same over the period, the EU sector would have increased by 7.3 percent over the review period.
Consumer expenditure on bodywear (in ? million) by EU countries, 2000-2003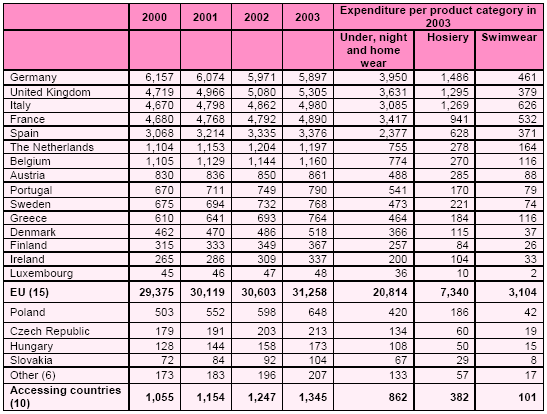 According to a research report, British women lead the European market in purchasing lingerie with an average of 103.5 euros (134.5 dollars) each year, faintly ahead of the French. The European lingerie market was calculated to be about 15 billion euros in 2003. With its 197 million potential female customers, the new larger European Union is now the third biggest world market behind China and India.

While French women purchase lingerie worth an average of 102.30 euros a year, German women spend 80.20 euros. The British to some extent outrank the French due to buying a lot of nightwear and indoor clothes, while the latter preferred more bras and panties. An Italian woman spends about 77.5 euros on an average on lingerie, and the Spanish follow with 71.3 euros.

The study revealed that 2003 had observed an expansion within the then 15-strong nation European market of imports from China, the key producer for the EU in value and volume terms. One bra out of every four, every three pairs of underpants out of 10 and two nightshirts out of five arrived from China. As for age groups, the 15-24 year-olds are the major buyers, followed by the 25-34 year-old age group. But the 55-64 years-olds have started buying more lingerie. Men, meanwhile, spend about 19 euros on underwear.

Conclusion

Intimatewear is the hottest item in today's apparel as we all know it includes lingerie, underwear, homewear, nightwear, fitness & dancewear and swimwear - basically anything worn next to the skin. Garment manufacturers now need to find the answers quickly as consumers demand clothing that is more durable and practical, and can do more than just look good. This product category requires special attention and the decision to enter this market has to be driven not by the size of the market but the ability to do such a difficult and complex garment.