Introduction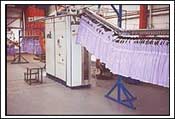 Wet processing of garments is gaining popularity now-a-days. Apart from washing and cleaning, it can impart artistic and innovative look to the garments especially denim fabric. It is being considered as value addition element to the garments. Various finishings like anti-microbial, wrinkle-free, water resistant, moisture management, laser coating etc. can be achieved through wet processing of garments. The compass of fashion is directed towards denim, therefore innovative visual and wash effects are experimented on this fabric. Many variations in washes have been witnessed since the last decade in the segment of denim apparels.

Definition of Garment Processing

Out of four types of textile processing viz.- fibre processing, yarn processing, fabric processing and garment processing, the last option garment processing has gained momentum in past few years due to denim garments which is the largest garment segment being processed by this method. There are many advantages of wet processing of denims like it give softness to the garments, eliminates sizing problems, bleaching could be done at preferred parts of the garments, over dyeing could also be done, and so on. There are mainly two sub-segments of garment processing:-

1) Garment Finishing

Garment finishing through wet processing is responsible for adding beauty to the garment. Proper finishing could provide better look to the garment, change the feel of the fabric and bring about a change to the texture of the fabric. There are various types of finishes like peach finish, anti-microbial finish, wrinkle free finish, aroma finish, UV guard finish, acid wash, enzyme wash, etc.

2) Garment Dyeing

The garments are dyed to provide the color to them. Various types of dyes are available in the market like reactive dyes, sulphur dyes, direct dyes, pigments, vat dyes and natural dyes. The worn out look in the garment can be attained by using sulphur dyes and pigments, whereas tie and dye effect through reactive, direct and vat dyes. There are many factors based on which dyes are chosen like- color fastness, smoothness of its application and its shade.

Significance of Garment Processing

Garment processing provides the garment an identity and exclusive appearance. Different looks, finishing and designs could be made on the apparel. It helps in creating a brand image. In order to achieve proper processing different aspects are required to keep in mind like the choice of chemicals, production limitations and types of machinery used.



Many types of the designing effects can be given to the garment through the various processes. In comparison to fabric processing it is better, as the wide range of visual effects created through garment processing cannot be achieved by the latter. To give the garment different feels bio-polishing is done. Rubber balls, thermocol balls, golf balls and stones can be also used for giving different types of finishes alongwith application of softeners. All these cannot be achieved through fabric processing.

Usually garment processing is not done on large scale, which in turn minimizes the damage risk. This procedure is carried out in small scale basis. If some changes are to be made or need arises to replace the present process for finishing, it could be done easily in small scale productions. Different styles, shades and designs can be made from garment processing. Denim fabric has to be processed in garment form only.

Difficulties faced

The main challenge in garment processing is the inadequately organized garment sector. Drawbacks like lack of technical know-how, scarcity of trained labor, unavailability of superior machineries etc. becomes a hindrance in garment processing. The types of dyes and auxiliaries used are according to the garment type. Mostly the chemicals used in the garment sector are initially made for the fabric sector. But this is a time consuming procedure, therefore research should be carried to make chemicals exclusively for garment sector.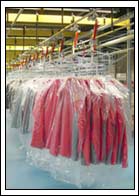 Garment processing is highly dependent on manual operations, which affect its production, labor cost and more importantly, quality standards. Many problems like batch-to-batch variations, garment-to-garment variation, etc. are mainly attributed to lack of processing How To, poor process control, prioritizing the cost over quality, low training imparted to workforce and poor quality standards been adopted.

There is no institute in India which gives technical training for wet processing of the garments. In order to compete in international garment industry it is important to adapt to the changing fashion trends and technologies.

Lack of properly framed supply chain in India is the major reason for the drawback of the garment industry. Due to this, foreign technical inputs are not satisfactory. The wet processing sector in garment industry is not so developed, as the workforce in most of the laundries is not professionally trained. Garment washing is not a childs play, it does require technical knowledge and artistic skills.

However there are some good institutes in India, which offer technical training in fashion and garment industry, but not much emphasis is given to wet processing methodology training. Many shortcomings exist in the garment industry like lack of properly framed system, minimal modernization of existing processing methods, etc. In order to make an impressive mark in the international garment sector, Indian garment industries have to concentrate in the areas which need improvement.

The core areas which should be addressed in order to achieve global success are as follows :-

Technical research and developmental help should be made available
Enhanced level of customer care services.
The products that are high in quality but cost effective are to be manufactured.
Professional training from time-to-time to be given in order to keep the workforce equipped with latest technical information and knowledge.
Proper quality checks for the garment at every stage of its processing.

The secret behind the global success of developed countries in garment industry is because of their technical competency, trained workforce and adequately framed management system. Thus some tips can be taken from success stories of other countries.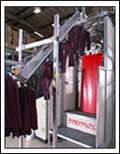 Developments

The value addition to garments has become quite popular, which makes them even more desirable. Some of unique characteristics that could be added to garments are wrinkle-free finish, flame resistance finish, anti-microbial finish, UV absorption finish, oil repellant finish, etc. For e.g.- Before some years it was not possible to get wrinkle free finish with less strength deficit, yellowing and low maintenance altogether. But now it has became possible to get wrinkle-free finish alongwith the three features described. The present system of wrinkle finishing consists of ingrained softeners and catalysts.

Conclusion

Innovative and enhanced results are possible through application of various types of garment processing, which in turn would bring greater financial profits. For it the garment manufacturers are required to develop a futuristic vision and take appropriate measures to overcome the problems of garment processing.
---
To read more articles on Textile, Fashion, Apparel, Technology, Retail and General please visit www.fibre2fashion.com/industry-article

To promote your company, product and services via promotional article, follow this link: http://www.fibre2fashion.com/services/featrued-article/featured_article.asp