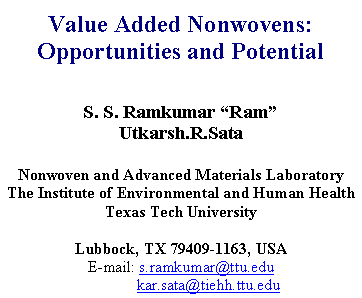 Current State of Economy: Relevancy to Textiles and Apparels Sector
Need for Creativity
We now have an economy that is fueled by human creativity - the ability to create meaningful new forms - in virtually every industry, from automobiles to fashion, food products, information technology - the winners are those who can create and keep on creating.

The Rise of the Creative Class (2002) Richard Florida, Professor, George Mason University, USA


What are Nonwovens?
. As the name indicates nonwovens are not woven fabrics.
. Cost effective process as it skips intermediary processes such as spinning, weave preparation and weaving.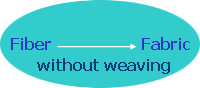 . High speed and productivity compared to conventional/woven processes
Major Nonwoven Technologies

. Needlepunching
. Thermalbonding
. Airlaid
. Spunbonding
. Meltblowing
. Spunlacing/hydroentanglement
Thermogravimetric Analyzer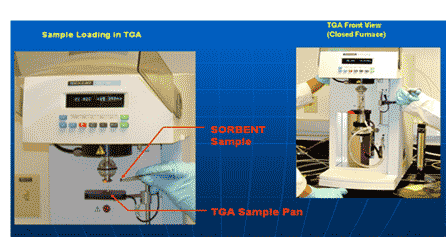 Schematic Representation of TGA Experimental Set-up>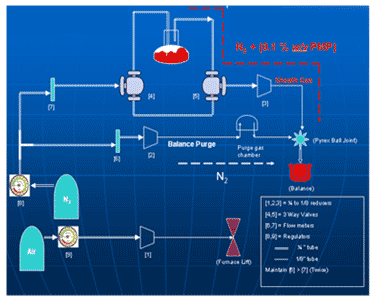 Challenge/Test Chemical

EXPERIMENTAL DESIGN
Chemical Adsorption Study
. Thermogravimetric analyzer (TGA) was used as a precise balance to measure the dynamic weight gain of the sorbent material over a period of time.
. This method enables the objective quantification of the adsorption of chemicals onto the substrate.
. The adsorption has been quantified using "Rate of Adsorption, Saturation Time and Adsorption Capacity" at saturation time.

Adsorption Characterization Using TGA

The adsorption of chemicals was characterized by gravimetric method using a thermo-gravimetric analyzer (Pyris 1 TGA Perkin Elmer) with a data collection software (Pyris Manager).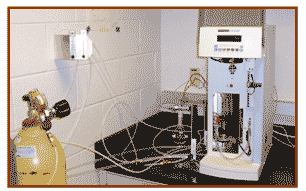 Sample Loading in TGA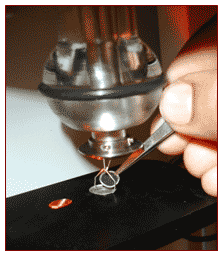 . Simulant for SOMAN

. Chemical Class: Organophosphorous agent
.
. Mol Weight : 180.18

. Specific Gravity : 1.032 g/mL @ 20o C

WHY PMP ?

PMP is the hydrolysis product of SOMAN
Hydrolysis of Soman to Pinacolyl Methylphosphonate (PMP).

http://techdigest.jhuapl.edu/td2501/Boyd.pdf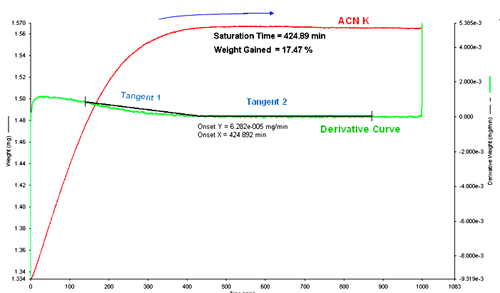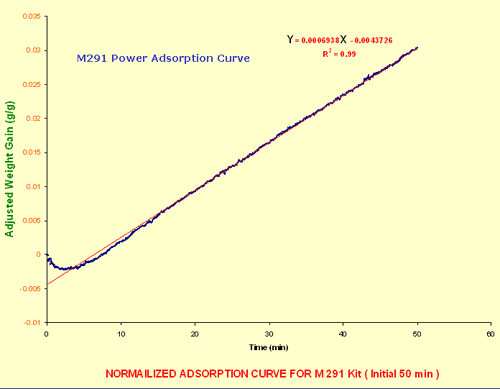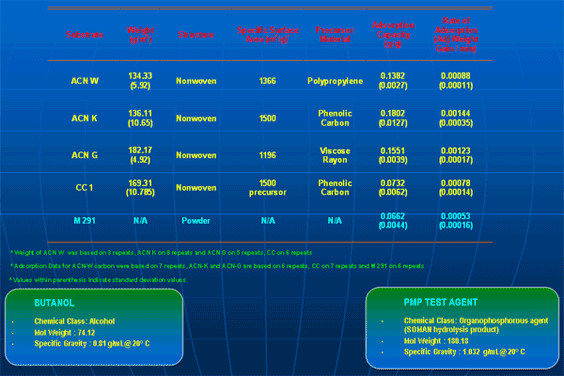 * Weight of ACN W was based on 3 repeats, ACN K on 8 repeats and ACN G on 5 repeats, CC on 6 repeats

* Adsorption Data for ACN-W carbon were based on 7 repeats, ACN-K and ACN-G are based on 6 repeats, CC on 7 repeats and M 291 on 6 repeats

* Values within parenthesis Indicate standard deviation values.


BUTANOL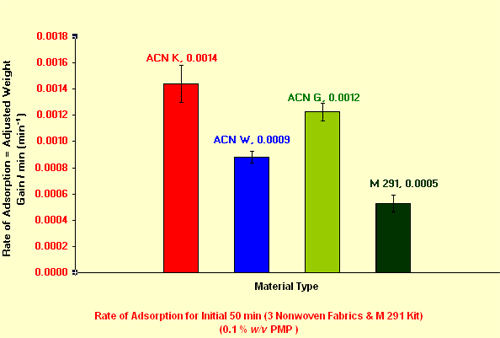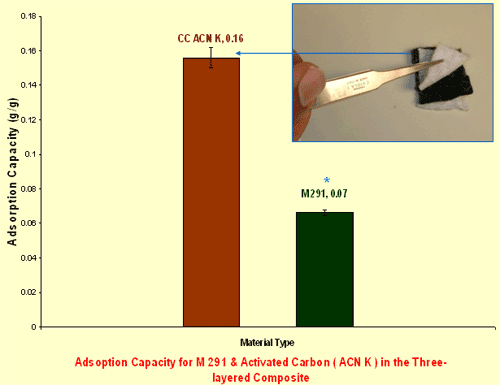 Conclusions

. The adsorption capacity of the nonwoven nonparticulate activated carbon fabric is higher than that of M 291 kit.
. Three-layered composite can serve as an effective adsorbent wipe against toxic chemicals such as PMP.
. The multi-layered nonwoven material is devoid of loose particles and hence will be very effective to decontaminate open wounds and sensitive parts of military equipments. This nonparticulate material can also serve as inner layer for a chemical and biological protective suit.
. The thermo-gravimetric analyzer functions as a highly precision balance in addition to providing isothermal conditions and controlled flow rates of gases.

Significant Outcomes

. The project meets the program requirements of the US CBD-DoD:

* Nonparticulate Decon System.
* Personnel and Sensitive Equipment Decon.
News - Textile World (April 2004)
Typical Applications of Nonwovens
. Technical applications
. Hospital fabrics
. Surgical gowns
. Face masks
. Geo textiles
. Consumer and industrial wipes
. Upholstery paddings
. Military decontamination wipes
. Inner liners of protective fabrics
. Automotive headliners
. Automotive trunkliners
. Acoustic and thermal insulation materials
.
Technology and End-use Applications
. Spunbonding - surgical gowns, diaper cover stocks
. Meltbowning - barriers, filters and face masks
. Needlepunching - Geotextiles, automotive fabrics
. Thermalbonding - upholstering, cussion pads
. Hydroentangling - wipes
.
Asia-Pacific Region (2004-2009)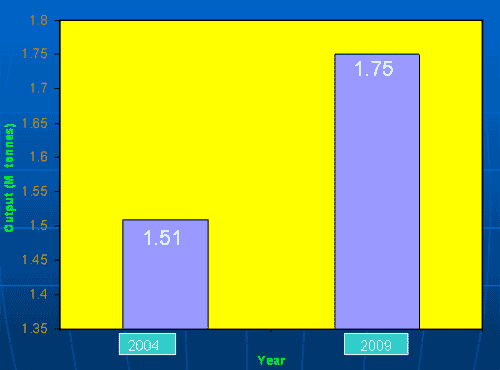 2004 Nonwoven Productions by Technology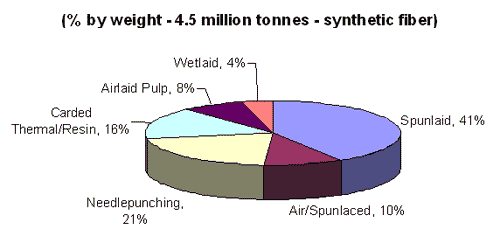 Courtesy of INDA
Worldwide Nonwoven Industry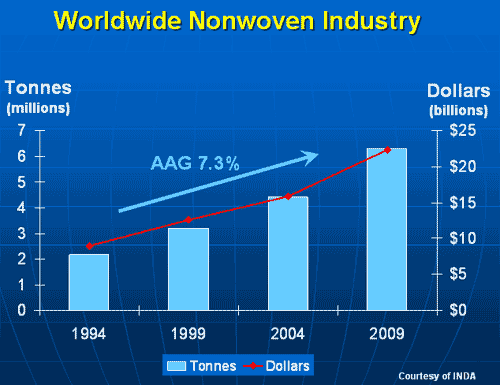 Indias Nonwoven Production: 2004
2004 Output: 35,000 (Metric tonnes)

World Wide Wipe Market*
. During the last 8 years world market for wipes have exploded to $6 billion
. Western Europe - $577 million to $ 2.7 billion
. North America - $649 million to $ 1.9 billion
. Asia Pacific - $578 million to $ 1 billion
* Household and Personal Care Wipes - September 2005
Success Story: Nonwoven Military Fabric
Recent research at Texas Tech University has resulted in the development of nonwoven composite that finds applications such as toxic chemical wipe and inner layer for chemical protective fabric.

This work has received wide public and international recognition.

Next-to-Skin Friendly Decontamination Wipe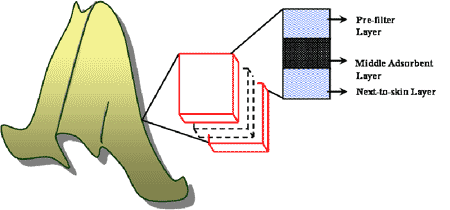 Featured as Quality Fabric of the Month in the April 2004 issue of Textile World magazine

Characterization of Novel Chemical Protective Substrates Based on their Adsorption Capabilities
DECONTAMINATION WIPE: NEED AND NATIONAL PRIORITY

. Development of nonparticulate, non-corrosive and sorbent material for decontaminating human body, military equipments and aircraft parts is the nation's priority research endeavor.

. This research and development is part of the Modernization Strategy of the US Department of Defense.

(Annual Reports from the US Department of Defense to the
US Congress, 2004 and 2005)
Objectives

1. To develop nonparticulate chemical protective substrates that could find applications such as:
* Flexible chemical warfare decontamination wipe.
* Breathable protective inner lines for chemical
protective suit.

2. To quantify and compare the adsorption characteristics of particulate (M291 decon kit) and other nonwoven sorbent substrates.

Marriage of Technology and Creativity

Creativity involves the ability to synthesize. It is a matter of sifting through data, perceptions and materials to come up with combinations that are new and useful
- Richard Florida, George Mason University, USA

Combinatorial approach has been followed at Texas Tech University to develop a value-added nonwoven product

Nonwoven Decontamination Wipe

The three-layered nonwoven decontamination wipe consists of:

1. Pre-filter (Top) Layer, L1
2. Middle Adsorbent Layer, L2
3. Next-to-Skin (Bottom) Layer, L3


Flexible Decontamination Wipe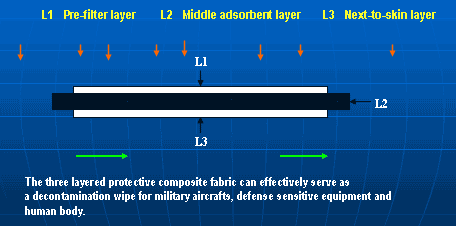 The three layered protective composite fabric can effectively serve as a decontamination wipe for military aircrafts, defense sensitive equipment and human body.

Nonwoven Laboratory: Texas Tech University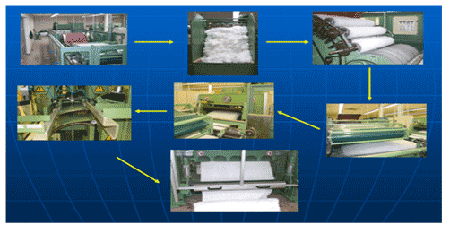 SEM Images of the Decontamination Wipe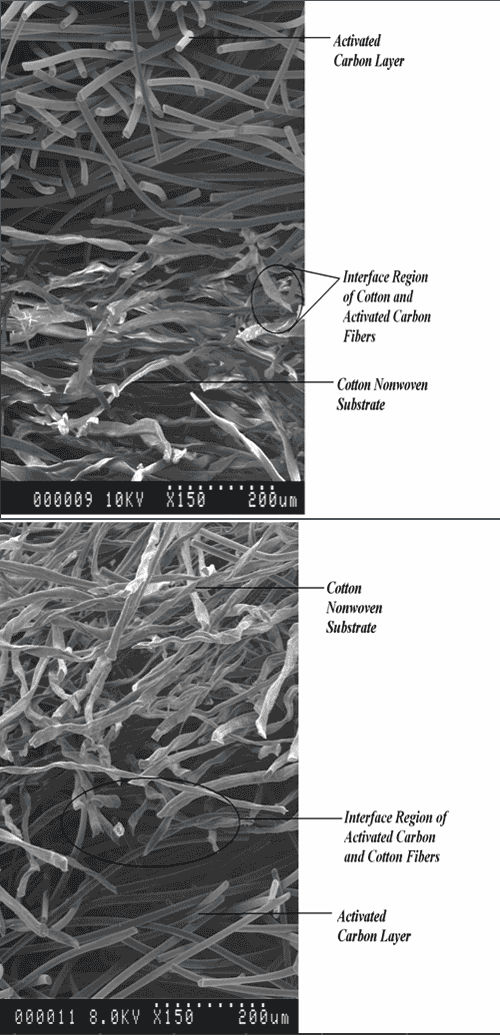 Contoured Needle Zone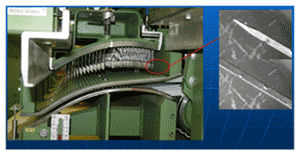 Decontamination Wipe Development Process

Next-to-Skin Friendly Decontamination Wipe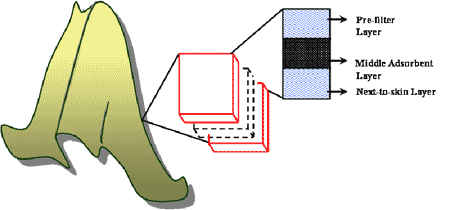 (Featured as the Quality Fabric of the Month in the April 2004 issue of Textile World Magazine)
Highly Efficient Flexible Decontamination Wipe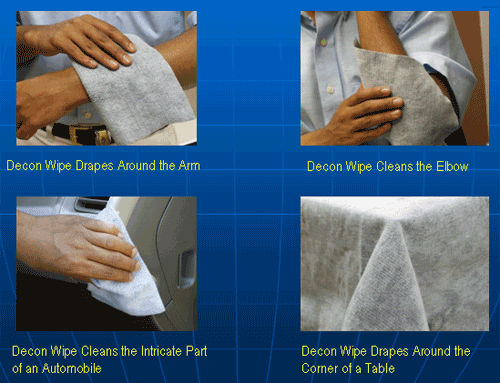 Novel Features and Superior Characteristics of Nonwoven Decon Wipes

. The three-layered decontamination wipe will be flexible, drapable and soft.
. The decontamination wipe will be "next-to-skin" friendly, which is extremely important for personnel/human body decontamination.
. The decontamination wipe due to its flexibility will be able to follow the shapes and contours of intricate parts of the human body and equipments.
. The top and bottom layers of the decontamination wipe provides the necessary structural coherence and enhanced strength.
. The use of needlepunched top and bottom layers enhances the adsorption and filtration efficiencies due to the availability of pores and free fibers.
. This is an important difference between the currently available rigid wipes that use polymer films that mask the active adsorption sites of the middle activated carbon.
. The three-layered decon wipe will have improved mechanical strength and abrasion resistance.
. The nonwoven technology is highly productive that enables the mass production of wipes at reduced production costs.
. The three-layered structures allows to add functionality to the wipe.
M 291 Current Skin Decon

. Currently fielded skin decontamination kit.
. M 291 consists of a decontamination powder (Ambergard XE-555 resin) in an applicator pad.
. The dry powder is a carbonaceous adsorbent, a polystyrene polymer and an ion-exchange resin.
. Leaves a black powder on skin-this is a NEGATIVE aspect for DoD personnel use.
. Forms a dust cloud (particles in eye/inhaled).


Lukey, Brian J.; Hurst, C. Gary; Gordon, Richard K.; Doctor, Bupendra P.; Clarkson, Edward, IV.; Slife, Harry F. "Six current or potential skin decontaminants for chemical warfare agent exposure - a literature review" Pharmacological Perspectives of Toxic Chemicals and Their Antidotes (2004), 13-24 .

M 291 Kit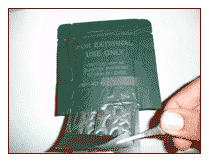 Powder from the M 291 Kit>